Hike to the Graveyard of Dian Fossey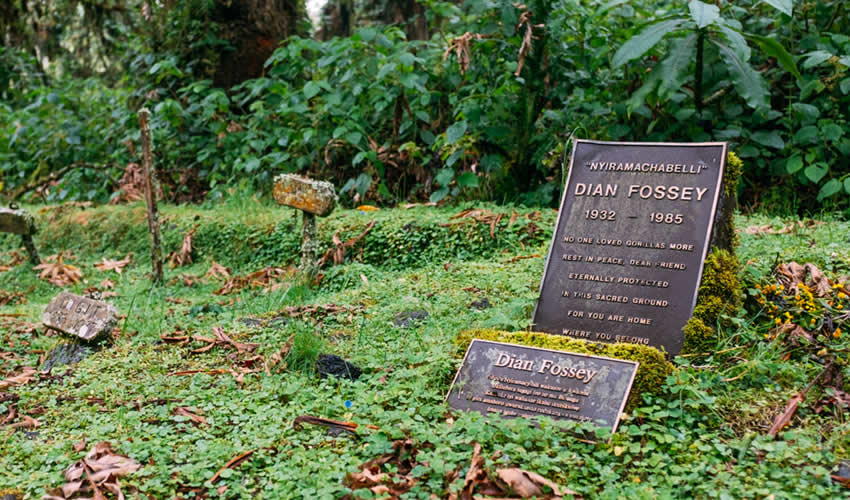 Hike to the graveyard of Dian Fossey, American primatologist who sacrificed her life to save the mountain gorillas is worth doing. The Dian Fossey grave yard hike is a learning experience for travelers providing them with the in-depth understanding of start of gorilla tourism in Rwanda and how an America primatologist sacrificed her life to save the rare mountain gorillas that where at the verge of extinction by then.
On an active volcano hike to 3700 meters above sea level, one can pay respect to the remarkable Dian Fossey. In this grave, she rests with 23 of her favorite primates. If one ever has the opportunity to look into the eyes of a gorilla, you instinctively know the loss of one species is a tragic tear in the fabric of human or natural life.
Preferably, visit this little exhibition before doing the Gorilla tracking. The place is very informative and one learns a lot in just half an hour. It´s amazing to see the legacy of Dian Fossey, not only in the Research Center but the results in conservation of such great living being, in such a vigorous trek with excellent guide who provided valuable history of the life, death, and accomplishments of Dian Fossey. The trek involved several hours of a mix of uphill trekking, some level ground trekking, muddy areas, and heavy vegetation at times – including the stinging nettles.
Whilst this is a necessary requirement for your itinerary, having been fascinated by Dian Fossey and her work for over 30yrs. The hike to the Graveyard of Dian Fossey is extremely challenging, it considers a fit and active and found the steep inclines and rough, muddy, soggy, mountain forest trails challenging.
To get to the trail head, as you keep enjoying an interesting walk through a small village with smiling, happy children greeting us along the way.
Helpful tips:
Wear long pants, long sleeves, garden gloves or trekking gloves to protect your hands from the stinging nettles.
Hire a porter to carry your pack on your hike to the Graveyard of Dian Fossey since you'll likely have a lunch, water, camera, etc. Porters are also extremely helpful in "pulling" you up steep inclines and helping back down those inclines.
Overall, a moderate hike but the initial change in altitude can cause shortness of breath.
Informative guards who trek ahead to be sure there are no dangerous situations with wildlife: elephants, buffalo, and gorillas.