Canopy Walk in Nyungwe Forest National Park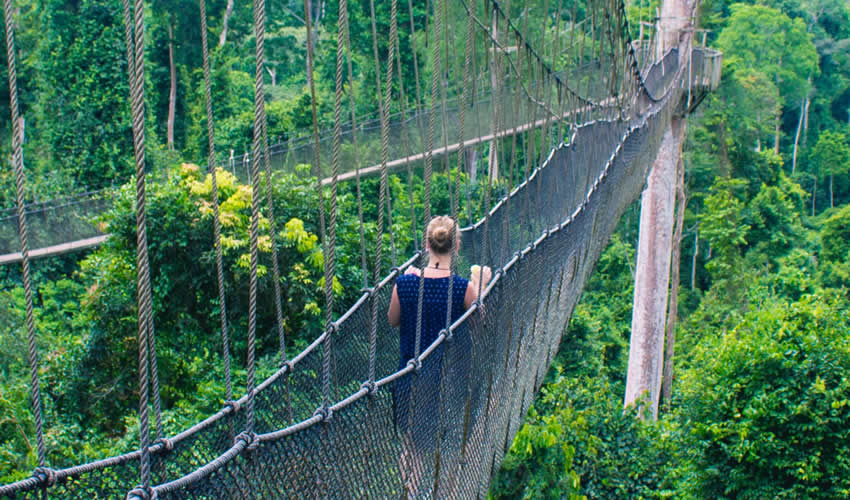 Canopy Walk in Nyungwe Forest National Park is a fascinating activity in Nyungwe Forest National Park. The Park offers you another interesting activity called Canopy walk. It is about a two kilometer walk to and from and 50 meter above the air.
Nyungwe Forest National Park offers you true fantastic and unique experience of canopy walk and beside the beautiful scenery it offers, centuries old trees and the added thick forest, and this extra ordinary tropical forest is also shelter to a 200m canopy walk way that will give you an excitement that can hardly be compared by anything else.
Reaching to the canopy is approximately 2 hours from Uwinka visitor Centre as start point, since the forest is on a mountain, one has to hike up to the top, and visitors fear heights this could not be the wise move for you. The Canopy Walk in Nyungwe Forest National Park is the place you feel free to put down your pen as a lifetime achievement feeling the freshness in the air and the wonderful aerial view of the trees, you will also enjoy the sights of the fantastic birds, butterflies and the monkeys that fly across as you enjoy the walk. This canopy walk is the most preferred activity for the park visitors especially for those that dare to bring the dream to life.
The hard wood trees also occupy the upper canopy as the lower part is dominated with the large selection of the purple orchids and the lush flora as well as fauna that curl better in the higher altitudes. This walk way of about 200m also hangs across a steep and deep valley that is filled with thick forest. This Canopy Walk gives breathtaking views across the misty forest and the sightings at the eye level of the variety of wildlife that live in the canopy.