Congo Nile Trail | Gorilla Adventure Tours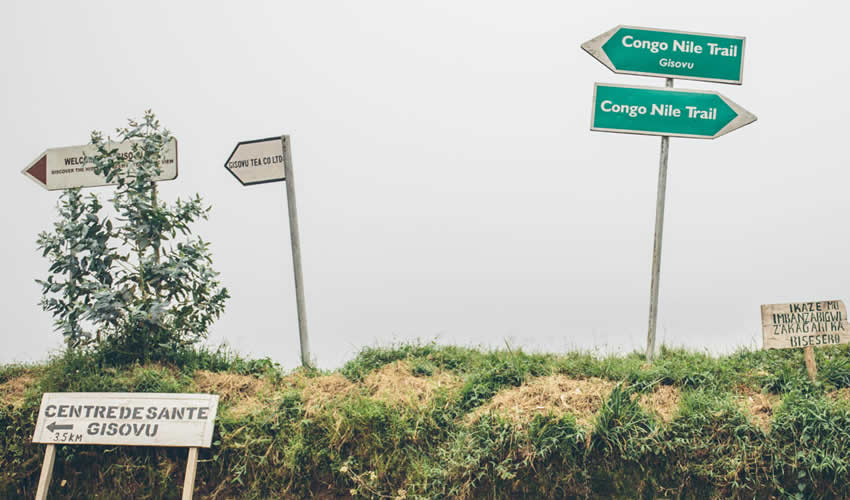 The Congo Nile Trail is a trail along Lake Kivu that extends from Rubavu, continues through Rutsiro via the Karongi, Nyamasheke districts and ends at Rusizi District.
The 227km Congo Nile Trail that runs along the shores of Lake Kivu gives tourists a clear picture square of why Rwanda is called the 'land of a thousand hills'. The trail offers beautiful views of the Rift Valley escarpment, rolling terraced hills, and green coffee and tea plantations that represent Rwanda's traditionally rural life and culture.
Rwanda's Congo Nile Trail safari is a network of dirt roads that run from the town of Gisenyi on the northern shores of Lake Kivu, continues through Rutsiro via the Karongi and Nyamasheke districts and ends at Rusizi on the southern end of Lake Kivu.
Congo-Nile-trail is generally takes 10 days to complete the 227km journey; however, the trip can be done in sections if travelers do not have the time to complete the entire trail. Trails give stunning views of the Lake Kivu coastline and offer adventurous travelers an exciting way to discover Rwanda with several shops along the trail where one can buy food and water to stay hydrated. We provide maps to cyclists, which show directions, distance and elevation of the landscapes to help you navigate your route.
While here, one can decide to take a walk which will be completed in 10 days or biking the Congo Nile Trail can be completed in 5 days, with rich views and immersive cultural experiences along the way. This trail appeals to adventure travelers and is a great way to experience Rwanda. The trail can also be split up if visitors do not have the time to commit to the 5 day journey. However, it is an experience worth selling to those who crave an off the beaten path adventure.
A decent level of fitness is required for the challenging elevations in the trail, ranging between 1,440 and 2,630 meters above sea level. This physical exertion is worth it though! The tiring Gisenyi to Kibuye trail is about 120km long and includes a chance to take boat trips on Lake Kivu. A biking tour gives you the chance to interact with local people while enjoying the challenge of some serious physical exercise as you wind up and down the hills and valleys. Travelers who camp along the trail can also take part in other activities such as bird watching, with guaranteed sightings of species such as fowls, white-headed cormorants and many more. Other activities to enjoy include swimming and relaxing on the Karongi sandy beaches, canoeing to the islands and visiting the waterfalls.
The biking trips also include side adventures to other tourist attractions like Nyungwe Forest National Park and Gishwati Mukura Forest Reserve where you can track chimpanzees and colobus monkeys and walk above the trees on a forest canopy walk.