Visit Rwanda on this adventurous 9 Days Wildlife Safari Experience in Rwanda taking you to explore some of the most popular tourist destinations in the land of a thousand hills. Enquire Now Explore the wonders of Akagera National Park and track mountain gorillas in Volcanoes National Park on this Rwanda safari which also takes you visit lake Kivu.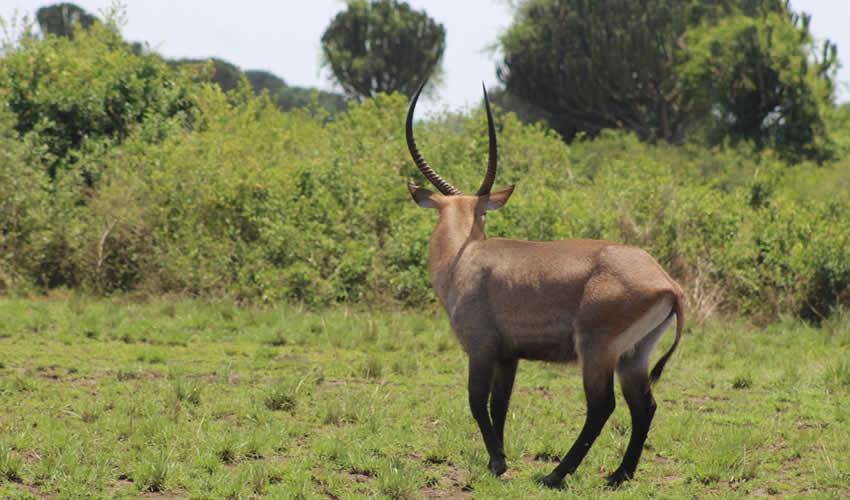 DAY 1: ARRIVAL – KIGALI AIRPORT.
A Gorilla Adventure Tours safari guide will pick you up at the airport upon your arrival and brief you about the 9 Days Wildlife Safari Experience in Rwanda and then drive you to Hotel des Milles Collines for dinner and overnight.
DAY 2: KIGALI CITY TOUR
After breakfast, you will embark on a tour the city. Kigali Genocide Memorial Centre will acquaint you with the barbarities of the 1994 Genocide against the Tutsi, which decimated the country and left an estimated one million people dead. On the brighter side, however, the tour of Kigali will show you how Rwandans have put those dark days behind them and literally rebuilt their country – one picturesque building at a time. In the afternoon, begin your journey to Akagera National Park, northeast of Kigali on the border with Tanzania. The journey to Rwanda's biggest national park – which spans 1,085 km.
Your visit to Akagera National Park starts with a sunset boat ride on Lake Ihema, the country's second-biggest fresh water lake after Lake Kivu. Lake Ihema is a birder's paradise; here you'll be fascinated by sightings of waterbirds such as cormorans, fish eagles, African jacana, papyrus gonolek and kingfishers. But the highlights are usually sightings of the monstrous elephants grazing by the lakeside, crocodiles enjoying the morning sun, and hippos playing in water. Enjoy a glass of champagne as the sun sets over the lake.
DAY 3: GAME DRIVE IN AKAGERA NATIONAL PARK
Today you will wake up as early as 6:00 am and go on safari. The park was named after the river that runs along Rwanda's eastern edge and it's the country's counterpart to the famous savannah reserves of Tanzania and Kenya farther afield. It's a stunningly beautiful park, boasting more than 10 fresh water lakes and more than 80 and 500 animal and bird species respectively.
Today's game drive will reward you with an authentic African Big Five safari experience in a less touristy destination where lions and rhinos returned in 2015 and 2017 respectively. Some of the park's most famous residents include lions, elephants, rhinos, zebras, cheetahs, hyenas, buffalos, giraffes, monkeys, hippos, bush pigs, warthogs, baboons, crocodiles, leopards and antelopes. Dinner and overnight will be at Ruzizi tented lodge
DAY 4: TRANSFER TO MUSANZE
After breakfast and a relaxed morning, a five-hour drive north of the country will lead you to Musanze, Rwanda's second-largest city and the country's tourism hub. You'll be taken straight to your hotel, from where your gorilla trekking expedition will begin tomorrow.
In Musanze you will visit the Gorilla Guardian Village (formerly known as Iby'Iwacu Cultural Village), an award-winning venture that was founded in 2004 and is owned entirely by local communities.
Since its inception, the Gorilla Guardian Village has significantly helped in improving the livelihoods of communities living near the Volcanoes National Park, which houses the mountain gorillas. The venture offers employment to hundreds of former poachers and potential poachers, thereby curtailing human pressure on the Volcanoes National Park. Set in a replica of the traditional Rwandan palace, here you'll be regaled by Rwandan Intore dancers and drummers who will showcase their bow and arrow skills, while a little village walk will introduce you to the local community's way of life.
Enjoy a special dinner and cultural show at the village before returning to Classic hotel for an early evening and overnight.
DAY 5: GORILLA TREKKING EXPERIENCE
After an early morning breakfast, we'll embark on the Mountain Gorilla encounter in the prehistoric forests at 7:00 am. The trek will commence with briefing at the park headquarters before proceeding to the forest in search of our closest cousins. Walking through the forest and eventually having direct encounter with these spectacular primates makes the trek memorable. After the trekking you will head to lodge for lunch and afternoon relaxation. Dinner and overnight at Classic lodge.
Day 6: BOAT TOUR ON LAKE KIVU
After breakfast, embark on a three-hour journey to the scenic Lake Kivu in Rusizi, one of Africa's Great Lakes that spans Rwanda and the Democratic Republic of Congo. Lake Kivu is 2,700 km² in size and sits at an altitude of 2349 km² above sea-level, making it the world's 15th and Africa's 3rd deepest lake.
You'll spend the afternoon on the Rwandan shore of the lake. Enjoy a sunset cruise on the lake as the Singing Fishermen of Lake Kivu head out in their three-hulled fishing boats. With characteristic long poles attached to their bows and sterns, these fascinating boats become slowly silhouetted against the darkening sky. In small groups, they seek the deep water a few kilometres out into the lake from where they cast their nets and fish throughout the night. Dinner and overnight will be at Eemraude resort.
Day 7: CHIMPANZEE TREKKING IN NYUNGWE NATIONAL PARK.
After breakfast, say goodbye to Lake Kivu and start the two-hour drive that will lead you to the Nyungwe. Today you will have an up-close encounter with Nyungwe National park's most famous residents: chimpanzees! As you set off for the memorable trek, you'll hear them before you see them, hooting somewhere deep in the forest, one voice at first, and then several of joining in a crescendo before fading away or merely stopping on the spur of the moment.
The Nyungwe National Park is home to more than 80 chimpanzees and four small types of prosimian and small nocturnal primates. Chimp trekking will be interspersed with other activities, including a hike to Isumo Waterfalls, where the moist air, the thunderous waterfalls, and the enlivening sounds of birds, tree frogs and insects will make you fete a real return to nature.
After the memorable chimp trekking expedition, you will return to your room for relaxation, dinner and overnight at Emeraude resort.
DAY 8: TRANSFER TO KIGALI
Departing from Nyungwe, take the scenic drive back past Lake Kivu to Kigali. This is your time to explore Kigali yourself and, maybe even, engage in a bit of shopping at Kimironko market or CAPLAKI Art village, awash with lots of craft and art pieces that showcase the country's contemporary urban culture. Enjoy a departure dinner for your last night in Kigali and reflect on your journey through Rwanda. Dinner and overnight at Milles collines.
DAY 9: DEPARTURE
You'll have very early morning breakfast and a Gorilla Adventure Tours safari guide will drop you off at the airport for an outbound flight.
End of the 9 Days Wildlife Safari Experience in Rwanda.
The 9 Days Wildlife Safari Experience in Rwanda includes;
Airport transfers.
Transportation by 4WD safari van.
Accommodation and meals while on safari as per the itinerary.
Services of English speaking tour guide.
Drinking Water on safari.
Park entrance fees.
Boat ride on Lake Kivu.
One Gorilla permit trekking Parc Volcanoes.
Guided nature walk Nyungwe.
Ranger fees.
Exclusions in the 9 Days Wildlife Safari Experience in Rwanda are; local and international flights,  Personal Travel insurance, Visa Fees, drinks, cigarettes, tips, souvenirs and any other items of personal nature.