The 3 Days Rwanda Gorilla Trekking Safari is mainly for seeing the mountain gorillas  in Volcanoes National Park, as well as the golden monkeys, spiced with a brief visit of the Dian Fossey institute. Enquire Now These all inhabit the volcanoes National Park which forms part of the Virunga massif ranges.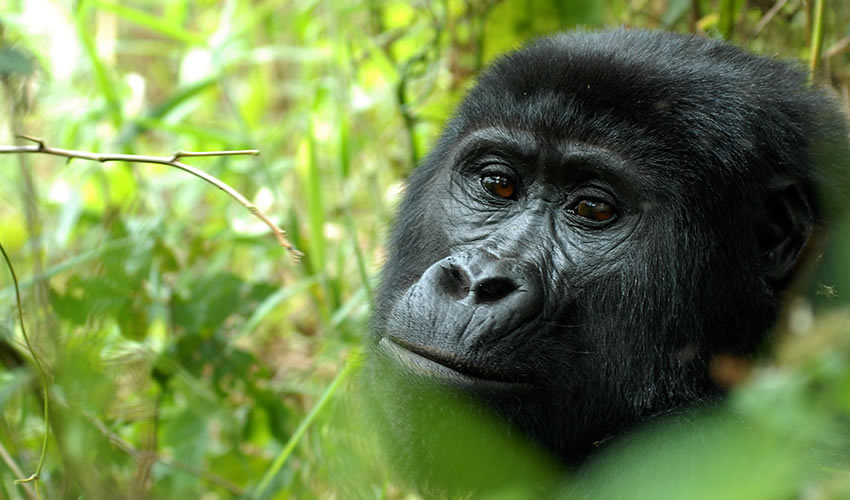 Detailed Itinerary.
Day 1: Arrival at Kigali Airport and transfer Volcanoes National Park (2.5 hours drive)
Upon your arrival at Kigali Airport, Meet and greet assistance at arrival hall, introduction to your guide and later you will be transferred to Volcanoes National Park with en-route visit to Dian Fossey Institute. Volcanoes has rich ecosystem and it is known for its rare Mountain Gorillas and magnificent mountain ranges.  Dinner and Overnight at Bisate Lodge Meal Plan: Dinner.
Day 3: Gorilla Trekking at Volcanoes National Park
Wake up with a cup of coffee in the lodge then head to the park headquarters for your Gorilla trek briefing. The gorilla permit will be verified and your passport details recorded. Enter into the Forest for half or whole day to search for the rare Mountain Gorillas depending on where they slept the previous day. Volcanoes National Park has rich ecosystem ranging from evergreen, bamboo forest, open grassland, swamp and heath. Above all it protects the steep slopes of these mountain ranges which are favorable for the stay of the rare Mountain Gorillas. Upon meeting the friendly rare Mountain Gorillas, you are assigned to 1-hour interaction with them. Watch them doing their daily life activity, feeding, playing, resting and training their young ones. Return to the lodge for lunch and relaxation. Overnight at Bisate Lodge Meal Plan: Breakfast, Lunch and Dinner.
Day 5: Golden Monkey Trekking – Kigali Airport (2.5 hours drive)
Have morning breakfast, and then proceed to the park headquarters for briefing before embarking on your Golden Monkey trekking starting at 8:00am. It is one of the most beautiful primate species in the world with golden-orange spots on their fur coats and they stay in troops of 60-80 individuals. The Golden Monkey also known as Cercopithecus Mitis Kandti is a local subspecies of the Sykes Monkey ("Blue Monkey") and they are found in high-altitude forests like Volcanoes National Park. You will find them playing, swinging on the bamboo branches, and also on the forest floor. They are so inquisitive but you are allowed to view them for an hour. Later you will be driven back to Kigali to catch up with your flight back home. If time allows do some shopping in Kigali city as you wait for your evening flight time. Meal Plan: Breakfast and Lunch.
End of the 3 Days Rwanda Gorilla Trekking Safari.