Virunga Volcanoes Lodge is located on the floor of volcanoes National Park and it was started in 2004 by the Praveen Moman. The lodge has defined the Rwanda's Iconic property Afro-Chic and it is one of the luxury facilities and eye catching to most travelers to volcanoes National Park in search of the rare Mountain Gorillas and Golden Monkeys. This is the understated, timeless, hand-made style that has been further redefined to meet the needs of today's luxury traveler during 2020 lockdown.
It is a 40 minute drive away to the volcanoes National Park headquarters and it offers 10 bandas with the driver guide cottages, it also provides Personal butler service for all guests, Ikirunga – Spa & Sauna, Community projects, Dian Fossey Map Room available for private events and conservation lectures, Wi-Fi can be accessed in the main lodge building and Dian Fossey Map Room, Charging facilities available in each banda, Premium wine, whisky, and cocktail menus.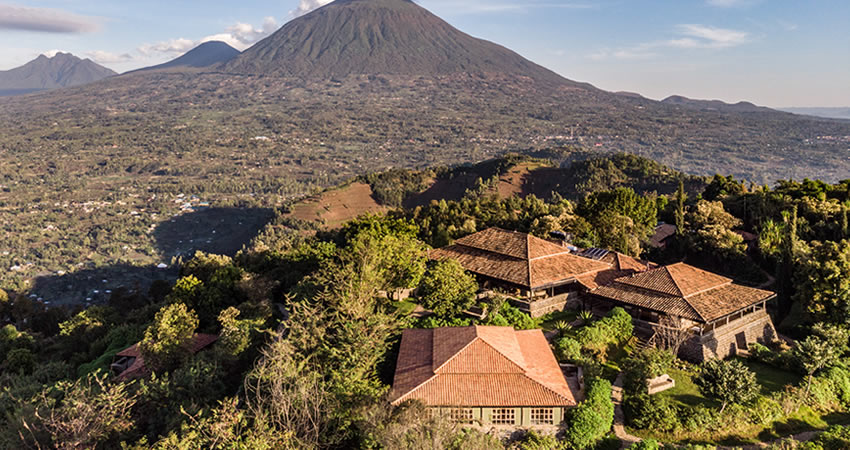 It overlooks the Virunga Volcanoes and the Musanze valley to the west and twin lakes of Bulera and Ruhondo to the east. It is the Africa's finest and most renowned lodge offering luxury services experience to most esteem clients who visit the Volcanoes National Park. The lodge is now celebrating its 17th anniversary in this 2021 since it was started in 2004.
The lodge staff is well trained and friendly to visitors offering Fantastic food and exceptional personalised service and we recommend it for stay at Volcanoes National Park to track your long waited Mountain Gorillas
The lodge bandas contain private terrace which can be used to watch the direct sunrise over the dramatic landscape of the mountains and lakes. The bandas also contain a place which can used to set a fire place
The two deluxe bandas – called Ibirunga and Ibiyaga – have their own private sitting room and more refined interiors and will also include a hot tub and a larger terrace overlooking the majestic Virunga volcanoes or the twin lakes.