One & Only Gorilla Nest is one of the luxury lodges at the edge of Volcanoes National park. The lodge is located on the slopes of the Virunga Volcano ranges adjacent to Volcanoes national Park, well known for its rare Mountain Gorillas. Just at Nyonirima, Kinigi, Ruhengeri, Rwanda, you will find one & Only Gorilla Nest Lodge and it is 120 kilometres northwest of capital Kigali city. You can be transferred by road for only 2.5 hours drive or by air using the scenic helicopter transfer that offers aerial views of the Virunga Volcanoes.
The lodge has 7 suites with beautiful architecture including Virunga suite, Ingagi suite, silverback suite, the two bedroom forest lodge, forest king lodge among others. The surroundings have tall eucalyptus trees and volcanic views in the surroundings. Every space is designed to frame nature, encircled by trees for ultimate privacy, with breathtaking views of Pyrethrum farmland, lush shambas and Eucalyptus forest. Feel the call of the trees from your secluded sanctuary where binoculars, a library of books and local Imigongo art await.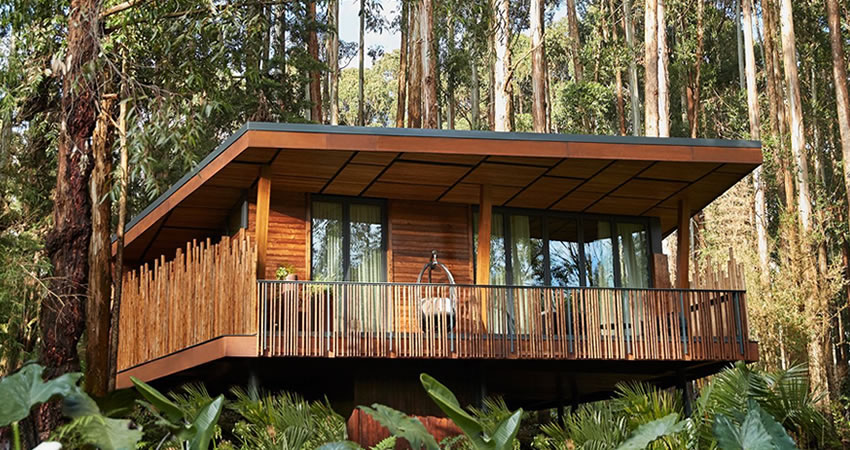 The taste of the gardens of this lodge is so amazing. Enjoy it in time of early morning coffee and let it be afternoon cocktail by the fire or chic sunset dining experience, enjoy undisturbed views in this glamorous setting. It is also surrounded by the rose petal with flourishing rose bushes and these petals are infused in bespoke cocktails, refreshing lemonades, and teas.
If you need to the discover the new treasures of Rwanda, it will be showcased from One & Only Gorilla Nest where every movement and settings in the lodge attract an array of different life forms of adventure. This lodge is a place of freedom and positivity.
Volcanoes National Park is historic rainforest which is a home to diverse wildlife and most especially the Mountain Gorillas. The park contains over 340 Mountain Gorilla individuals with a silverback being the head in each Gorilla family and it weighs about 200kgs. The park also has the rare Golden Monkey with over 300 bird species.  In and around the resort, there is an incredible topography of peaceful sleeping volcanoes that defy gravity, creating an awe-inspiring atmosphere and perfect setting for cyclists.
The lodge employs largely the local people in order to build the locals to benefit from the booming industry. The team themselves contribute to the 'Umuganda' in Musanze with great pride. Regular visits and donations are made to local schools and guests are also able to purchase Imigongo art from local people. The lodge has a perfect ecosystem which connects the lodge to locale areas like Kinigi and Musanze.
AMENITIES
The lodge is well maintained with full time Wi-Fi of course, meandering garden paths, the sparkling infinity pool, and nest bar welcomes you in to share your stories from a day of activity, Private Dining enjoy secluded candlelit dinners, sustainable dining nestled in the chef's garden or set off on a hike with a basket filled with delicious treats, sampling seasonal menus or taking time to pause in the spa; the natural surroundings with park activity.
HOW TO GET THERE
BY LAND
Driven on 4×4 luxury vehicle, it takes 2.5 hours drive from Kigali city or Kigali Airport to One & Only Gorilla Nest Lodge at Volcanoes National Park. Your heart will be captured by the rolling hills and local communities while on this drive. It can also be accessed via Nyungwe or Lake Kivu to One & Only Gorilla Nest for those who started their tour from the southern province.
BY AIR
With the chartered scenic helicopter flight, One & Only Gorilla Nest Lodge can be accessed as you land at Musanze airstrip for 25 minutes where you will be welcomed by the lodge staff. You can also fly from One & Only Nyungwe house to Volcanoes and it takes 45 hours helicopter fly. Be blown away by the the volcanic views and gardens.