Magashi Camp is located in the north eastern province of Akagera National Park overlooking beautiful Lake Rwanyakazinga in the heart of the conservation area, it's a newly formed camp Rwanda's first luxury facility in Akagera providing up market accommodation to travelers that reach out to the area.it lies in the northeastern province of Rwanda along the country's boarder with Tanzania founded to protect natural resources that include woodlands, Savannah and wildlife which are in this beautiful eco-system.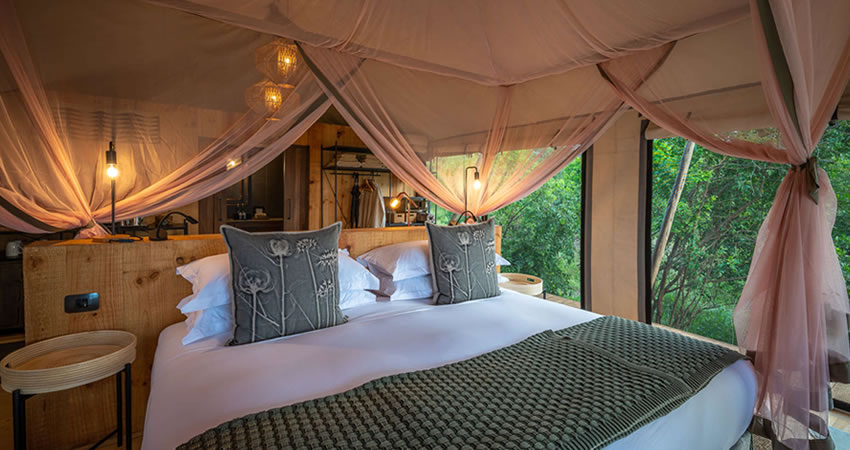 Akagera has remarkably undergone a lot of transformations in the past few years it faced a lot of poaching during the Rwandan genocide leading to a great deduction in the number of animal population, despite all the struggles it still stands out with a success story. The African park foundation reintroduced black rhino to the destination and lions ranking it the only park in Rwanda where you can find the big five. It was named after river Akagera which flows along its eastern border. It's a great ecosystem dominated by swamps, rivers and lakes characterized by woodlands, low mountains and savannah.
The camp is a property of wilderness safari sister to Bisate lodge in volcanoes national park visitors can track gorillas have a stay at bisate and proceed to akagera savannah for big game with accommodation at the magnificent magashi camp which was officially opened in 2019, launched in partnerships with conservation non-profit African parks and Rwanda development board. The lodge has overwhelming atmosphere life changing journey experiences to visitors that come to the park.
The main guest area has been designed to take full advantage of the surrounding the luxurious lounge, dinning and bar area, wine cellar, pool and a large deck with a fireplace. They serve best cuisines with staff that go an extra mile to ensure guest satisfaction.
Magashi's six spacious rooms were constructed with an interior architecture copied from the traditional style of the Rwandan culture powered by solar panel, en-suite bathroom beautifully built with plenty of light and space featuring the use of natural resources it's a small place with excellent service.
The camp activities are Akagera Game Drives and boat cruises to the lakes offering exceptional views of the leopard, lion sightings, zebras, elands, masai giraffes, topis, buffaloes among many species. The park is home to so many bird species living in the beautiful rolling grassland interspersed with broad-leafed acacia woodlands for example greater blue eared starling, the famous shoebill, mocking cliff-chat, African harrier hawk, red-faced barbet, the beauty of the park can be seen anywhere and is so thrilling as you adventure through the park, night game drives can be organized there is a big opportunity to see predators.
Rwanda lies 75 miles south the equator in the tropic of Capricorn receiving relatively good climatic conditions it has temperate tropical highland climate with lower temperatures, Akagera climate is relatively warm with quite uniform temperature all throughout the year, it receives two dry seasons and two rainy ones the dry ones range from the months of December –February and June to mid-September. It is advisable to carry warm clothes and boots on the early morning and night game drives.