Kigali Marriott hotel is one of the world Marriott hotels located in KN 3 Avenue, Kigali, Rwanda. Marriott is known for its quality services and friendly staff and Kigali Marriott Hotel lives to serve the same purpose with its various on-site facilities which can even satisfy the most discerning clients.
The hotel is located near Nyarugenge financial district and the Kigali convention center. It takes 23 minutes' drive from Kigali International Airport covering a distance of 11km from the airport.
Kigali Marriott hotel is a luxury hotel which is blended in modern style suiting the international standards. With its spacious, modern accommodation, deluxe amenities and premium services. The beds in the stylish rooms and lavish suites are very comfortable and your stay here will not be regrettable.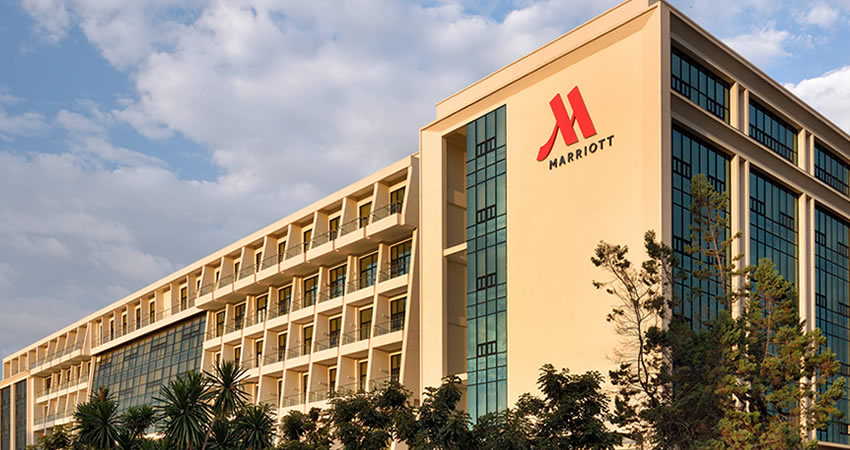 The rooms contain spacious bathrooms and plush, pillow-top bedding. flat-screen TVs, ergonomic workspaces and complimentary Wi-Fi access for Marriott Convoy members. Seat back and relax as you enjoy the delicious meal in one of the restaurants, take a refreshing dip in our outdoor pool or unwind with a massage in our hotel spa.
There are very many dinning places being used while at Kigali Marriot hotel which include Cucina Restaurant known for its authentic Italian dishes paired with a glass of wine in our relaxed, modern restaurant in Kigali, Soko Restaurant is also open for breakfast, lunch and dinner, this modern restaurant in Kigali serves global cuisine in an airy, atrium-styled atmosphere or on a delightful, al fresco terrace. Order a la carte dishes or select from the lavish buffet. There is also Iriba Bar & Terrace where you can begin your day with a cup of coffee and grab-and-go snacks, or relax on the terrace with a tasty lunch at Iriba Bar & Terrace. This restaurant is an ideal place to gather with friends and colleagues. You can also drink and dine at Sarabi Pool Bar. It is at the hotels outdoor pool with a delicious cocktail and tasty burgers in Kigali at Sarabi Grill. Enjoy barbecue, brochettes and more at our charming outdoor restaurant and bar.
Excursions can also be done in the nearby places especially the Kigali city tour to the Genocide and many other places. You can also go and the see the BIG 5 (Lions, elephants, buffalo, leopard and Rhino) at Akagera National Park, Volcanoes National Park can also be visited for Gorilla trekking and Golden monkey trekking.
WHAT TO EXPECT AT KIGALI MARRIOT HOTEL?
Experience stylish, amenity-filled accommodations that provide a tranquil retreat in Kigali, Rwanda
All luxury hotel rooms offer floor-to-ceiling windows, showcasing impressive views of Kigali
Enjoy amenities such as ergonomic workspaces & free Wi-Fi when you're on business travel in Kigali
Rejuvenate in luxury bathrooms featuring soaking tubs and marble rainfall showers
Accommodation amenities also include 24-hour room service, pillow top bedding and mini-refrigerators
You can upgrade to one of the Suites and enjoy spacious living rooms and access to Executive Lounge.