Five Volcanoes Boutique Hotel could be your next stop for your stay at Volcanoes National Park. It located on the foothills of Virunga ranges just on the road going to Kinigi and the lodge is close to most tourism activities happening in Volcanoes National Park. All in the entire lodge offers the most relaxing atmosphere.
The lodge has 8 deluxe bedrooms both double or twin beds, family suites and Volcano Manor and they will make you have a pleasant and memorable stay at Five Volcanoes Boutique Hotel. It has also the specious and beautiful gardens with friendly staff, outstanding services on top the luxury rooms in this facility.
They also take care of the dirty shoes when you get back from your gorilla trekking and also from any other activity. You can also enjoy the swimming pool with a three course menu lunch.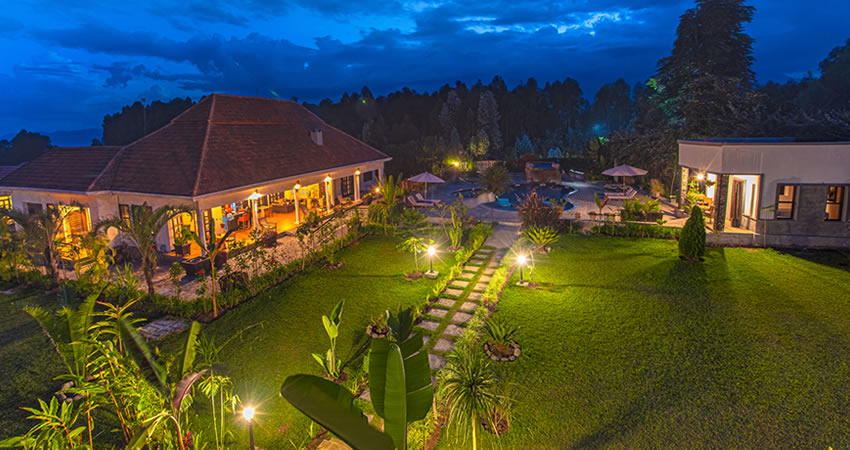 All the lodge rooms offer Self-contained bathrooms with hot water shower, Hair dryer, flat screen TVs (all satellite channels), Mini bar, and Laundry services.
On the other hand, the lodge is composed of the Restaurant, Bar & Lounge area with an incredible view of the Volcanoes, Lushfull, well-kept green garden areas surrounding all rooms, Fire place, Accessibility for disabled guests, swimming Pool, Massage, 24/7 front desk.
TYPES OF ROOMS
Deluxe Rooms
This is a spacious room with a king sized bed/ two separate beds and it contains a self contained bathroom with a rainfall shower and bathtub. It has additionally a changing room which gives space for the luggage. The rooms are equipped with a mini bar and a tea/coffee station.
Family Suite
The Family suite consists of two rooms, both equipped with double beds or twin beds (as desired), and own bathrooms with "rain fall" showers. The rooms are connected by a sitting room with TV and mini bar.
Volcano Manor
This is the most expensive room with the best room service than the other two types. It has three rooms which can accommodate up to six people and the room cost starting from $5,500
ACTIVITIES AT FIVE VOLCANOES BOUTIQUE HOTEL:
Off course the gorilla trekking is the most exciting activity with Golden monkey trekking at Volcanoes National Park
The hotel also organises long hikes through the mountain forests of the national park
Bird watching can also be done around the lodge areas with the surrounding communities
It is also offers canoeing – you can choose to start out either in the morning or the afternoon, for a half-day adventure on the river.
There is also cycling which the countries developing spot activity and the centre is just short walk away from the lodge. So you can hire bikes and even book tours with a cycling team member.