Akagera Rhino Lodge is only 2 hours and 30 minute drives from Kigali, the capital city of Rwanda. It is located in Kayonza on the edge of Akagera National Park just few meters away from the park gate. It is a perfect place to sit, relax and enjoy the stunning views of central Africa's largest protected wetland system, the Akagera National Park. Mountain views are offered in all units and guests at the lodge can enjoy a continental breakfast. Guests can also relax in the shared lounge area.
The lodge has different rooms and they can host more than two people in each and the rooms include Buffalo springs family room, rhino room, inzovu chalet, pumba safari family, mamba family chalet, Lion hill family room, twiga family room, shaba room shoebill chalet. With the skillful personnel, Akagera Rhino Lodge has been designed using wood and stone made and crafted from the local artisans into customer rooms and the furnishing has made Akagera game lodge a unique place in Rwanda.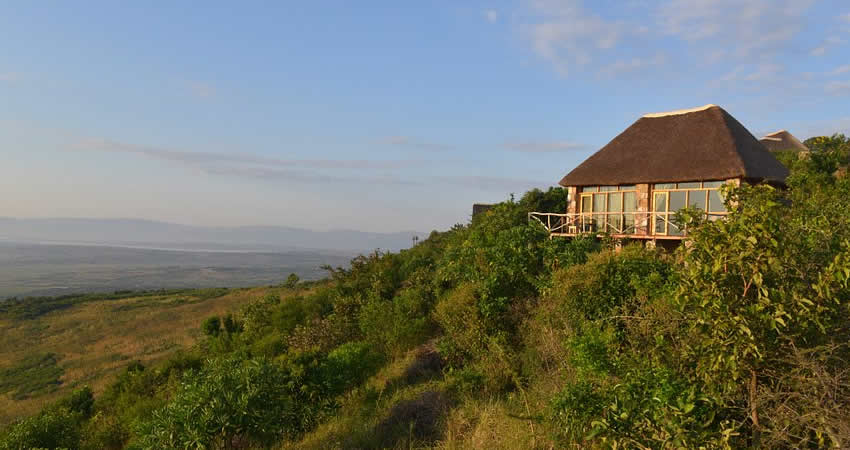 The lodge is rustic in nature and has been curated to include the distinctive hallmarks of Rwandan hospitality. Each room is outfitted with premium mattresses, custom furnishings and bathrooms stocked with locally-sourced toiletries.
The lodge can accommodate big groups with special interests including bush walkers, artists and photographers, school groups, Rotary clubs, seniors and retiree groups, coach companies, tour groups among others and they will enjoy the good and perfect atmosphere this lodge is known for
Every room and cottage is self contained with a clear view of Lake Ihema and woody savannah hillsides, a large terrace with lounge chairs, and a sufficient distance from other rooms to allow for exclusive enjoyment of nature around you. The bed arrangement is either King or Queen Size, even for the twin rooms.
TOURISM ACTIVITIES AROUND AKAGERA RHINO LODGE
1.    Game drives in Akagera
With Akagera national Park being the only savannah national park in Rwanda makes a perfect place for game drive and it hosts over 20 mammal species which include lions, elephants, leopards, buffaloes, hyenas, zebras, antelopes, Eland, Topi, Impala, giraffe, Bush Buck and Baboon. So in your encounter you will see all these mentioned animals.
2.   Birding
With more than 480 species, Akagera is one of the best places for bird watching in Rwanda. You will be assigned experienced birding guide who will spot most of the species which call Akagera their home (endemics) and also the migrants. Keep a close eye on the park's many lakes for species as varied at the Pied Kingfisher, Fish Eagle, Grey Crowned Cranes, Open Billed Stork, Cormorant, as well as the Egret. If you're especially lucky, you make even find the elusive Shoebill in the northern swamps of the park.
3.   Community Walk Farming
You will be taken for a walk within the community land and enjoy the farming experience. Come along with a camera and it will be full of photos as you interact with the local communities with their traditional long horned cows. It takes 2 hours with the minimum of 2 people.
4.   Boat cruise on Lake Ihema
This is one of the best experiences while visiting Akagera National Park and it is done on Lake Ihema. This is experience will leave you in awe of the vast array of birdlife, hippos and crocodiles. Sighting of Leopard and Elephant are not uncommon on the journey, so be sure to take your binoculars or request a pair from the lodge reception before you set off
The boat safari is one of the best ways to see the beauty of central Africa's largest protected wetland system.
5.   Nature Walk
The nature walk takes 2 hours with a minimum of 2 people. So you will learn the history of the locals in this Area. Meet the locals with their native plants and animals and in most cases you will find them engaged in bee keeping, making handicrafts and farming.
6.   Traditional Canoeing
The canoe ride on the nearby lake Ihema costs $25 or $30 per person and you will learn the traditional ways of catching fish from the locals. You'll get up close and personal with spectacular birdlife and enjoy the calm waters
7.   Walk the Line
Hike along the electric fence that was erected to reduce human-wildlife conflicts and see how people and wildlife live side by side harmoniously. A word of caution though, avoids a small electric shock by not touching the wire mesh during your walk.
8. Local Market & Cuisine
Taste the local cuisines by visiting the nearby local community around Akagera Rhino Lodge. You will be introduced to a family that will guide you on how to shop for the right ingredients and how to make a delicious local meal. You won't forget savoring the local cuisine you made yourself. It takes 3 hours with a minimum of 2 people.
9.   Make Local Beer & Honey
This is most experiential as you will learn how to make the beer from the local bananas known as Urwagwa" in Kinyarwanda. The community of beekeepers is waiting for you. You will be excited as they show you how bees skillfully enter a locally made beehive, and how honey is harvested without jeopardising the life of the rightful owners (the bees). You will also learn how honey is treated and preserved for safe consumption by humans. It takes 2 hours and 30 minutes
10. Greater Nyagakonji Half-Day Tour
Spend half day climbing up and down the cliffs of Nyagakonji hills. The half-day tour is a chance to explore this beautiful part of the world, understand its history and meet the locals who call it home. Meet the community dancers as you taste their culture.
Karama's Heritage Tour
This private guided tour of the community living in the south of the park offers an in-depth account of life in the neighborhoods. Meet Joseph Karama who, with more than 13 years of working experience in community and game reserves, will combine the knowledge of the past and current life to make your stay at Akagera Rhino Lodge the most distinctive in your life. Joseph is endowed with expert cultural and nature interpretation born out of a lifetime of working and living around parks and guiding groups of international guests. Note that these tours are booked in advance and only offered on weekends.
Munini-Ndego Bike Trail
The lodge organizes riding tours using local bicycles that take you through the breathtaking scenery of the rocky ridges at the southern tip of Akagera National Park, along the plains of the lakes that make a trio in the east: Ihema, Nasho and Kibare. The Rhino Lodge provides the bicycles, helmets, water, and snacks. Guests are encouraged to bring their own suitable clothing, including jackets, sunscreens, sunglasses and camera.