Stay at Akagera Game Lodge with Gorilla Adventure Tours. Akagera Game Lodge is located on the southern end of Akagera National Park highlighted above a plateau with angelic views of lake Ihema and some parts of lake Shakani, the park lies in the north eastern province of Rwanda along the country's boarder with Tanzania, founded to protect animals and vegetation that lied with in the area it was named after the akagera river that flows along its eastern boundary, the parks ecosystem is dominated by swamps, small lakes and rivers.
The main lodge is composed of a lounge area, reception dotted with African carvings and pieces of art, a restaurant serving both local and international cuisines on a one sided deck area where meals are served, a well-stocked bar with a variety of drinks both alcoholic and non-alcoholic, a pool deck with crystal waters overlooking lake Ihema one of Rwanda's second largest lakes fed by river akagera, a large conference room that can host up to 60 people.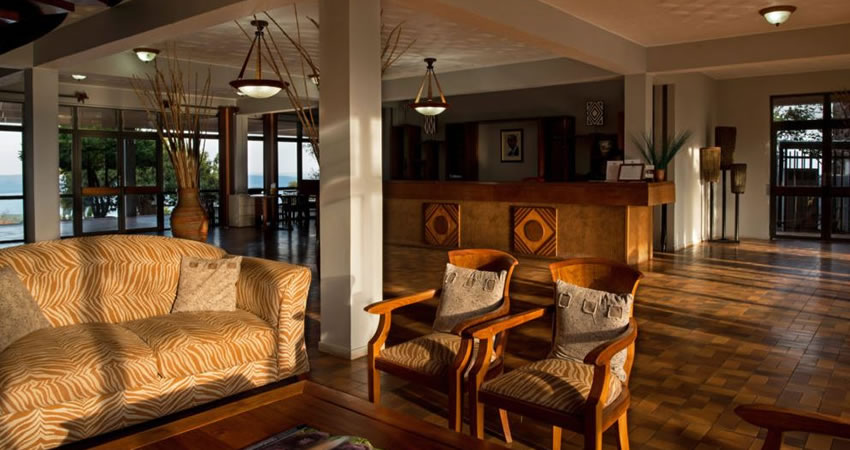 The lodge is more of a hotel than just an ordinary safari lodge comprised of 60 rooms some of which a single, double or twin rooms, they have en-suite bathrooms, satellite TV, beautiful African crafts, a balcony with couple chairs facing the savannah or the lake rooms are interconnected convenient enough to stay.
The lodge is a perfect home base for exploring the conservation area best relaxation and conferencing, it is easily accessible approximately 5km from the southern gate of the park its actually possible to see zebra and waterbuck while at the lodge and about 3 hours' drive from Kigali. The lodge has experienced and very friendly staff who go an extra mile to ensure guest satisfaction.
The best activities to participate in while at the Akagera Game Lodge are game drives, the park is well known for its big game in Rwanda, the beauty of the park can be seen anywhere and so exciting as you drive around the park surprise waits as nature reveals its self in form of wonders from the woodlands to the savannah, lakes and the papyrus swamps.it is blessed with a lot of flora and fauna, you will be in position to spot the masai giraffes,oribi,elephants,crocodiles, sitatunga, lions, zebras, waterbucks, elands, impalas, hippos, buffaloes among other animal species. Akagera has hundreds of bird species best spotted on short boat cruises which giving a great opportunity to get close to the water birds on a lucky day you might see the famous rare shoebill stork, popular birds include marabustock,pelicans, egrets, crowned cranes, African fish eagles.
The park is accessible all year round but best during the dry seasons of December to mid-February and June to mid-September in these months the park has sparse vegetation and animals gather to graze hence easy to spot. However, each season has its own beautiful times and a view of the park in a different way, the wet season gives the conservation area angelic green views although seeing wildlife needs a lot of patience during this time. Its best for lake views.