Radisson Blu and Convention Centre is 5-star and high end hotel located on KG 2 Roundabout, Kigali, Rwanda. It is just 5km distance from Kigali International Airport and those with special hire can drive for only 23 minutes from the airport. The hotel is composed of 292 modern and spacious rooms and suites with its 18 meeting rooms including an auditorium, meeting and events planners can take advantage of the Convention Centers' versatile event space and state-of-the-art facilities to accommodate up to 5,000 delegates per day. The hotel offers excellent and all day dinning, an exquisite Italian restaurant, a Bar, Lobby lounge and an outdoor swimming pool designed to provide a memorable experience to business and leisure travelers alike. The on-site spa is designed to offer a relaxing experience for couples, friends and individuals looking for rejuvenation.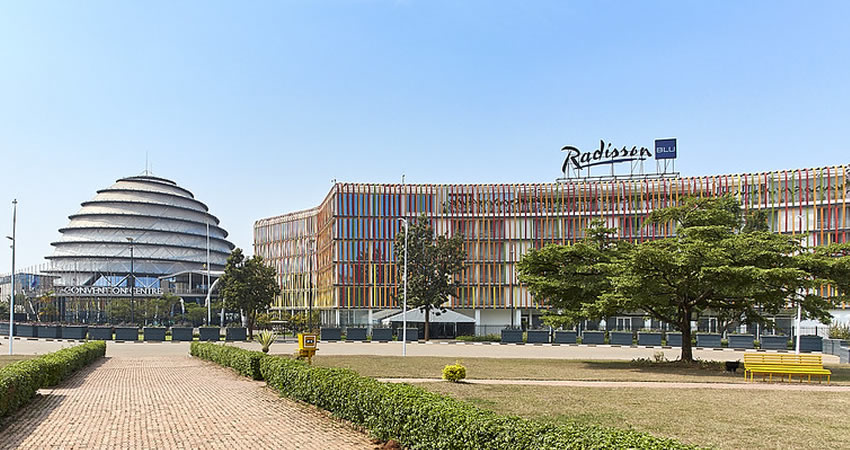 This good looking hotel is also located near the Kigali Convention Centre (KCC) and it is just 2km from several government embassies, the British High Commission, the Parliament and the Supreme Court.
The hotel rooms are built with balconies, free high-speed internet, on-site restaurant for all day dinning covering (breakfast, Lunch and Dinner) Rwandan, African and international dishes which can suite your stay here in Kigali. For a light bite or a relaxing nightcap, visit the Lounge Bar.
At this very hotel, there is 650 parking bays and after any excursion, you can go for work out in any of the fitness Centre in the hotel and also relaxing at the swimming pool.
The Kigali Convention Centre (KCC) is adjacent to the Radisson Blue Hotel & Convention Centre. KCC has a net floor area of 32,200 square meters, and the building contains facilities for business, leisure and events. Our meeting rooms are fully equipped with the latest technology and AV equipment for a successful event. There is a total of 18 versatile meeting spaces, including a state-of-the-art auditorium that can hold up to 2,600 guests for weddings or professional business meetings.
There are two restaurants including Lardar and Filini restaurant with also two bars which include Piazza bar and Lounge. You can start your day with breakfast from one of the restaurants and finish your day with the Italian dishes at Filini restaurant. You can also have a stop at Lounge any time during the day for any type of the drink. For the case of Piazza bar, you can meet your friends and enjoy some delicious pub food with exquisite cocktail
NEARBY ATTRACTION
There are many excursions which can be done while staying at Radisson blue and convention centre in Kigali. The Kigali genocide is just 6km from the hotel and also Hotel Des Mille Collins is also 5km distance from Radisson and 23 minutes. Akagera National Park is also 2 hours drive from Kigali and it can be visited in 1 day. Visitors looking for handmade clothing, vibrant African textiles and souvenirs can visit the Kimironko market.