Palm Beach Hotel is situated 450 meters from the shores of Lake Kivu, 2.5 miles from the city center of Gisenyi, 2.2 miles from Clinique medical de' l Arche and 0.4 miles from Rubona Peninsula and 10 minutes drive from Rwanda Tourism University College.
The hotel is well known to be mid range, the so called 3-star hotel with the excellent services found in Nyayumba, one of the places in Gisenyi on the shores of Lake Kivu. It has 20 elegant bungalows with the view of the lake with its colorful gardens surrounded by umbrellas around the pool with palm trees around the hotel providing the fresh air for your relaxation while staying at this hotel.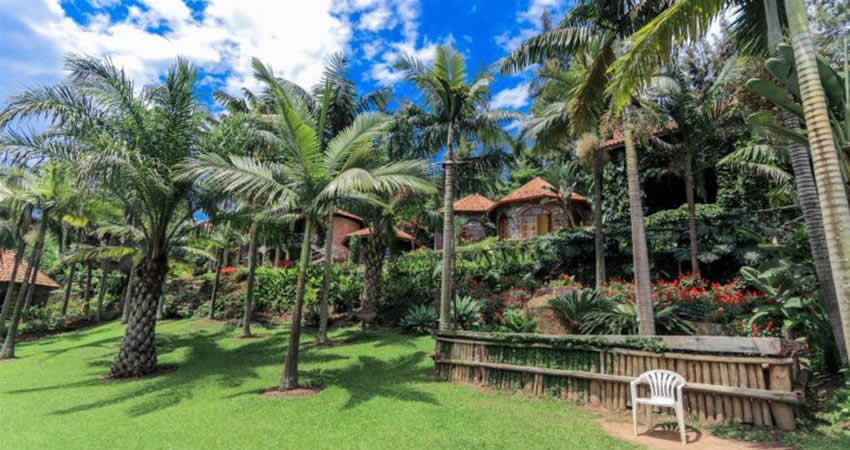 The hotel is unique and the fashion reflects the African style with natural materials and local woods. Bungalows are made of one room with single, double or twin rooms and family room with en-suite private facilities, all equipped with flushing toilets, mosquito nets, shower with running hot water, fire extinguishers, complementary bottled water, air conditioning , Wi-Fi,  wardrobe, a coffee machine, slippers, chair, table and Tv. The rooms also have sitting areas with Verandas and terraces with the marvelous view of Lake Kivu and you will see palm trees lined on its gardens.
The Palm Beach hotel also provides an ironing service, as well as business facilities like fax and photocopying. Staff at the 24-hour front desk can provide advice on what to do in the area.
There are different activities which can be done like cycling, community walks and boat cruises on Lake Kivu, practice fisheries, canoeing
FACILITIES AT PALM BEACH HOTEL
A restaurant,
3 bars/lounges, and a beach bar
Free buffet breakfast,
Free WiFi in public areas,
Free self parking is also provided.
Coffee shop/café,
A snack bar/deli,
Meeting room.
Living rooms and dining areas,
Furnished patios,
Room service,
Rainfall showerheads.