One & Only Nyungwe Lodge is beautifully set on the edge of nyungwe forest offering best luxurious services in the heart of magnificent Rwanda situated in tea plantations of Gisakura designed to fit the surrounding environment natural of nyungwe. Nyungwe national park lies within the Albertine rift valley eco- region known for its high density of biodiversity of species, protecting the oldest remaining patches of montane rain forest and home to over 300 birds of different kinds, mount Bigugu is the highest mountain in the national park habitats range from rainforest, bamboo, grasslands, swamps and bogs.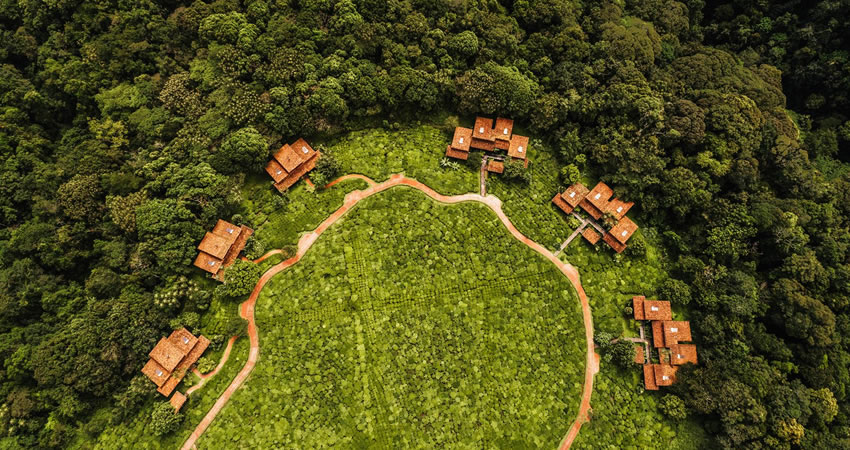 The main lodge was built with a fixture of wood, dark granite and ceramic tiles, decorated with local art designed in an African style unleashing the beauty of the one and only nyungwe lodge. Its composed of a large dining area with an outdoor dining space overlooking the tea plantations and the forest at a distance, a reception area moving through a lounge and bar area set with a fire place inside and outside, an outdoor pool, fitness center, a gift shop and the one and only spa.
One and only nyungwe lodge has been through transformations, for every newly changed room it has been architecturally designed to fit the landscape blending with the environment built with extended balconies open to views of the beautiful forest beyond. The 23 luxurious cottages are situated in nine stunning villas all with exceptional views of Nyungwe forest, open fires, en-suite bathrooms, extended private deck with local artifacts inspired by the Rwanda culture.
Tourist that visit the national park, can participate in different tourism activities like chimpanzee tracking, a number of primate species stay in nyungwe forest besides the chimpanzee which include the olive baboon, vervet monkey, Mona monkey, red-tailed monkey, l'hoest monkey, blue monkey, Angola colobus monkey, owl faced monkey. Nature walks common sightings include duikers, bush buck, among other animal species that might be encountered during the guided walk. Nyungwe hosts over 300 birds the blue headed sunbird, bar- tailed trogon and ross's turaco
Canopy walk constructed long the ishingishi trail approximately 1km from the uwinka visitor center, a 200-meter trail suspended between giant forest trees offering magnificent views of the upper canopy of the forest. It has been sighted as a very important bird area and the Gisakura tea estate, cultural performances in the Banda village it offers local food tasting, nature hikes, basket weaving, village banana bears for adventurous tourists, witness a traditional wedding and learn about traditional medicine.
Nyungwe can be accessed all year round but best during the months of December to February, June to mid-September. The park receives more than 2000mm of rainfall annually a water catchment area for Rwanda supplying about 70% of the water, different infrastructures have been constructed to in order to boost tourism in nyungwe.
Nyungwe is approximately five hours drive from Kigali, there are a number of historical sites along the way to nyungwe such as the Nyanza province, national museum, craft shops, huye and Gikongoros genocide memorial.