Nyungwe Nziza Eco Lodge is one the lodge facilities found in Nyungwe Forest National Park. It is located in Kitabi, Nyamagabe District in the Southern Province. It offers scenic views of the area which is quiet and near Nyungwe Forest National Park.
The facility provides comfortable hotel room beds and Camping tents which are categorized in Deluxe room tents and portable tents. The Hotel is also composed of the alacaret restaurant with menus where you can choose your favorite food, it also has handcraft shop, an open air bar, a fire place and it also offers cars for hire with the transfers from Kigali Airport or Kigali City to Nyungwe Forest National Park.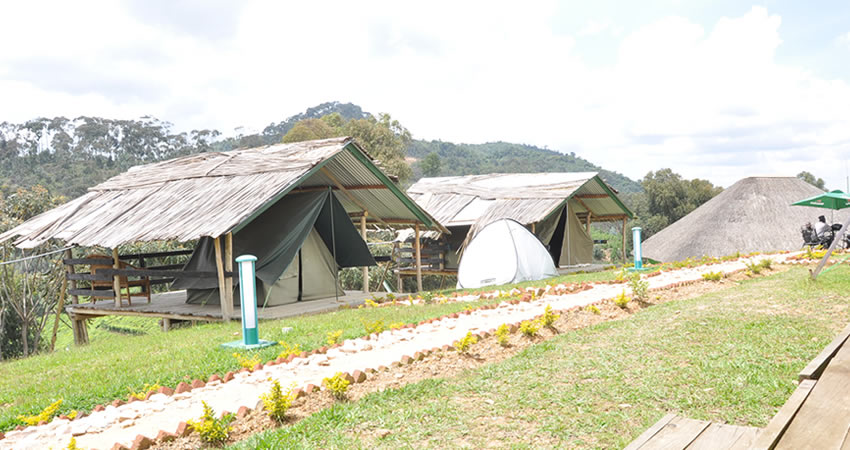 HOW TO GET TO NYUNGWE NZINZA ECOLODGE
BY ROAD TRANSPORT
Nyungwe Nziza Eco lodge offers paid transport services from Kigali airport to Nyungwe Nzinza Eco-lodge. Please contact the lodge staff and this service will be arranged for you. You will be driven from Kigali to the lodge using the lodge vehicle or your tour operators who arranged your trip. Your guide will show you several attractions along your way to Nyungwe Nziza Eco-lodge among which include the Royal Palace Museum and Ethnographic Museum in Southern Province, this will give you a great history of traditional ways of living among Rwandans and their past way of leadership of Kingship.
BY AIR TRANSPORT
There are daily helicopter flights from Kigali International Airport to Kitabi, closer to Nyungwe Forest National Park. The helicopter can be chattered or scheduled through Akagera Aviation. It will not only make your journey shorter but have an aerial scenic view of how Rwanda looks like. Upon your arrival, you will be met by the lodge representative who will transfer you to the lodge and assisted to check-in your room.
TOURISM ACTIVITIES AT AND NEAR THE LODGE
The lodge is strategically located and for it being closer to Nyungwe National Park, there are very many tourism activities one can take on. This include volunteer tourism, visiting tea plantations, community tourism, birding and wildlife tourism which include Chimpanzee trekking and Canopy walk.