It is important to pack the right gear before embarking on a Mountain Hiking experience and these include:- hiking boots to maneuver through slippery surfaces and loose rocks, enough drinking water to keep the body hydrated, energy-giving snacks for strength and for long distance hikers, a sleeping bag and warm jackets to counter the cold conditions.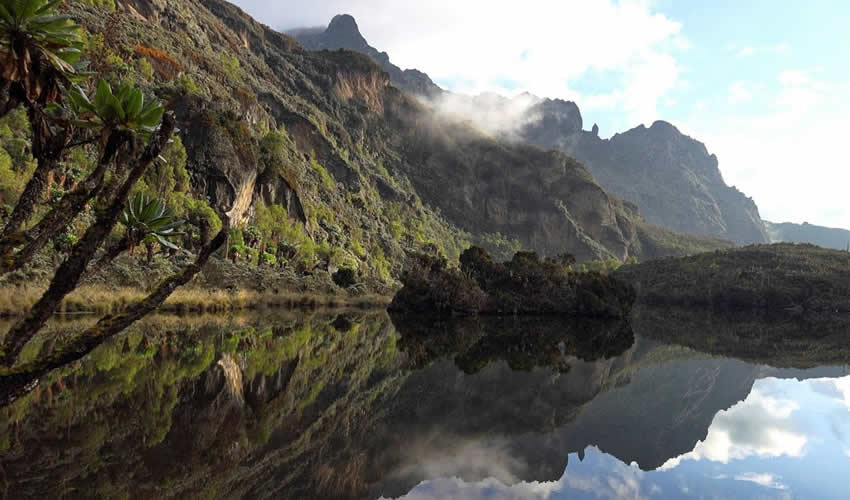 The following are Uganda's most popular mountain hiking destinations:-
MOUNT RWENZORI
Mount Rwenzori has the highest peak in Uganda and the third highest in the world.This mountain is located in the western part of the country at the border with The Democratic Republic of Congo. Margerita, the highest peak of Mount Rwenzori stands at 5,109 meters above sea level and usually takes about eight days to hike to the summit successfully. The shorter routes of Kilembe trail and Mahoma loop usually last about one (1) and three (3) days respectively.
One will find permanent snow at the top of the mountain which sometimes melts and flows into the lowland rivers of Nyamwamba and Mubuku. The base of the mountain is a designated National park and is a habitat of tropical rain forests as well as various wild animals which gives hikers a bonus experience of game viewing as they hike to the top.
MOUNT ELGON
Mount Elgonis another hiking destination in Uganda. Located at the border of Uganda and Kenya, Mount Elgon stands at 4,321 meters above sea level making it the fourth highest in East Africa and eighth in Africa. The highest peak of this mountain is called Wagagai whose summit has the world's largest Caldera at approximately fifty (50) by eighty (80) kilometers.
Mount Elgon is also a National Park with a variety of animals including elephants, forest monkeys, antelopes, buffaloes and birds among others. Caves, waterfalls and water pools can be seen at the mountain slopes which makes hiking this mountain a wholesome experience.
THE VIRUNGA VOLCANOES
The Virunga Volcanoes are located in Mgahinga National Park in the South-Western part of the country and share borders with Rwanda and The Democratic Republic of Congo. The highest peak, Mount Muhaburastands at 4,127 meters above sea level and it takes about five hours to successfully hike to the summit of this peak. The other two of the three conical-shaped extinct volcanic mountains are Karisimbi in Rwanda and Mikeno in The Democratic Republic of Congo.
These three volcanic mountains can be best hiked from Uganda because the rugged terrain and various crater lakes on the Democratic Republic of Congo and Rwanda sides make hiking severely hard. On the slopes of Mount Muhabura is the Mount Mgahinga Gorilla National Park which is home to the endangered Mountain Gorillas.