Kigali Serena Hotel is one the Serena group of hotels and they are only two Serena hotels in Rwanda. It is located in KN 3 Ave, Kigali, Rwanda and one of the luxury hotels one can stay at while in Kigali, Rwanda. It is 25 minutes drive from Kigali International Airport and it covers only a distance of 12km from the Airport.
The hotel is composed of 148 rooms and suites and they are uniquely made with a blend of Rwandan heritage, art and culture. So you will enjoy 5-star service and comfort in this luxury facility. Serena Kigali hotel provides a private and peaceful retreat like no other for discerning international diplomats and executives.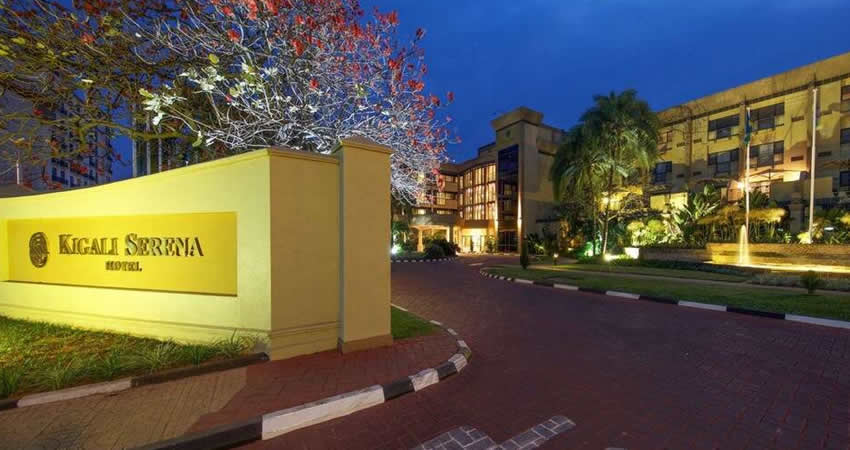 Most of the rooms are equipped with One king or two twin beds, Bathroom with tub and shower, Complimentary wired and wireless Internet, Coffeemaker, Iron/ironing board, Minibar, Hairdryer, Bathrobe, Slippers, 24-Hour room service, Air conditioning, Flat-screen TV with satellite channels, Work desk and chair, Voicemail, Elemis bath amenities, Safe, and Complimentary daily newspapers.
DINING AT KIGALI SERENA HOTEL
There are different restaurants in Kigali Serena Hotel. So you will enjoy your culinary experience in this hotel. The experienced chef can take you through the alluring journey showcasing the authentic delicacies of Rwanda alongside the African delicacies and international dishes.  No matter which restaurant you choose, are prepared to savour innovative menus with bold flavours, using only the finest locally sourced meats, seafood and produce selected from known farmers and providers.
SOKONI RESTAURANT
This restaurant overlooks the pool with extensive tropical gardens. It is a meeting place for both the locals and guests and the place is known for its colorful cocktails, globe-trotting cuisine and vibrant live music. Sokoni offers all-day café-styled service to suit all tastes. It also features a choice of weekly specials that hit the high spots of the local social scene.
Every Friday, wind down from the week at Sokoni. Happy Hour drinks are half price between 6:00 p.m. and 7:00 p.m., and the sumptuous African Buffet runs from 6:30 p.m. to 10:00 p.m. A showcase of local, regional and international cuisine, the unrivalled variety and style of the buffet is complemented by the quality of the resident band, who takes the stage at 7:00 p.m.
There is a family BBQ Lunch every Saturday at Sokoni restaurant and it also offers exceptional child friendly specials on weekends and it is one of the city favorite's family venues. The children's under 12 years are guaranteed of appealing menus all day and every day at half price.
MILIMA RESTAURANT
One of Kigali's most popular dining venues, the Milima Restaurant overlooks the pool and has been styled to offer a classically elegant interior with a light-filled atrium overlooking the verdant tropical gardens. Breakfast, lunch and dinner are served at Milima, each with its own subtly different ambience, and each as suited to a business briefing as to a more relaxed social or family event.
24-HOUR ROOM SERVICE
You can request to be served privately in your room and enjoy the 24-hour room service. They offer varied menus to choose from the classic club sandwich to a delicately spiced curry.
TYPES OF ROOMS
STANDARD ROOMS
This room is suitable for both business and leisure individuals. The room is blended in an African style and of high standard furnishing. It has 5-start amenities and room range from 25- to 30-square-metre
DELUXE ROOMS
Appointed in authentic African style and elegantly furnished with upscale furnishings and 5-star amenities, our 25- to 30-square-metre Deluxe Rooms exude a quiet sophistication ideal for business or leisure stays.
SUPERIOR ROOMS
The size varies from 25 to 30 sqm and it offers twin or king-sized beds and a bathroom with both tub and shower.
PRIME ROOMS
It also varies in size ranging from 25 to 30 sqm, these rooms offer either twin or king-sized beds and a bathroom with both tub and shower.
JUNIOR SUITE
Junior Suites provide guests with 40 square metres of space and offer king beds, a bathroom with both tub and shower, and an integrated workspace
EXECUTIVE SUITE
The 70-square-metre Executive Suite offers a sense of quiet retreat with a king pillow top bed, a separate sitting room for working or relaxing and a bathroom with both tub and shower
PRESIDENTIAL SUITE
The resplendent 300-square-foot three-bedroom Presidential Suite offers a king bedroom with ensuite bathroom featuring Jacuzzi, tub and shower; two guest rooms; a private office; a private dining room and galley kitchen. There is also an elegant sitting room; a reception area and a private vestibule entrance. Situated on its own private floor, the suite is one of the finest examples of accommodation in Kigali and throughout Rwanda.
FACILITIES AT KIGALI SERENA HOTEL
Pool, Pool Deck and Gardens
International Conference Centre
Maisha Spa & Health Club
Executive Lounge & Bar
Concierge Services
The Milima Restaurant
The Sokoni Café and Bar
The Executive Lounge and Bar
Business Centre, travel desk, taxi and limousine service
Gift Shop, news-stand and travel requisites kiosk.