Karenga Bush Camp is a budget facility located north of Akagera National park in Rwanda. It has six (6) ensuite and comfortable canvas tents which can accommodate up to 12 guests. Every room accommodates 2 people on comfortable camp beds raised on the decks. The facility is strategically located on the quiet area which is suitable, accessible and best for wildlife sighting in Akagera.
The word "Karenga" is local phrase which means small foot in Kinyarwanda. The camp facility operates on solar lights and lantern lights. Daily warm water is provided in ensuite bathrooms next to each tent which have bucket showers and toilets.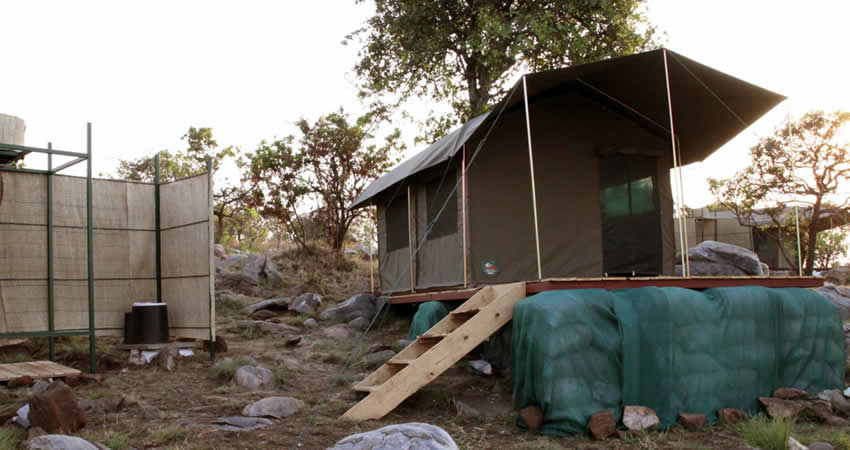 The camp facility operates on season basis and it has a working restaurant with a bar and it operates in full board basis where all meals are provided for your stay at Karenga Bush Camp and drinks are kept cold using solar fridges
The lodge management is mindful of environment sustainability and 100% of the profits go towards the conservation and management of Akagera National Park as a whole.
The camp facility offers great views of the park and Lake Ihema. All tent facilities have mosquito nets, beds, tv and tv stands, hot and cold outdoor shower, flushing toilets, chairs and other facilities
Akagera National Park is the only Savannah park found in the eastern Rwanda in the borders of Tanzania with Rwanda. It has over 20 mammal species including the Lions, Buffaloes, elephants, rhinos, leopards, zebras, antelopes, hyenas, giraffes, hippos, crocodiles among other animal's species. It is also a birders haven with over 480 species of birds including shoebill, papyrus Gonolek, African Wattled Plover, Giant Kingfisher, Senegal Lapwings, Squacco Herons among other bird species.