The Lodge is situated in Rubavu, Gisenyi and it was started in March 2012 as the owner was inspired by a TV show called Partir Autrement. It is a budget facility providing comfortable accommodation and a perfect place for anyone just on the shores of Lake Kivu.
It is constructed reflecting environment sustainability with safari style tents using locally source materials from the near communities. The lodge is powered by solar energy with low energy consumption lights. Water at lodge is captured using natural methods and also showers are operated on water saving methods.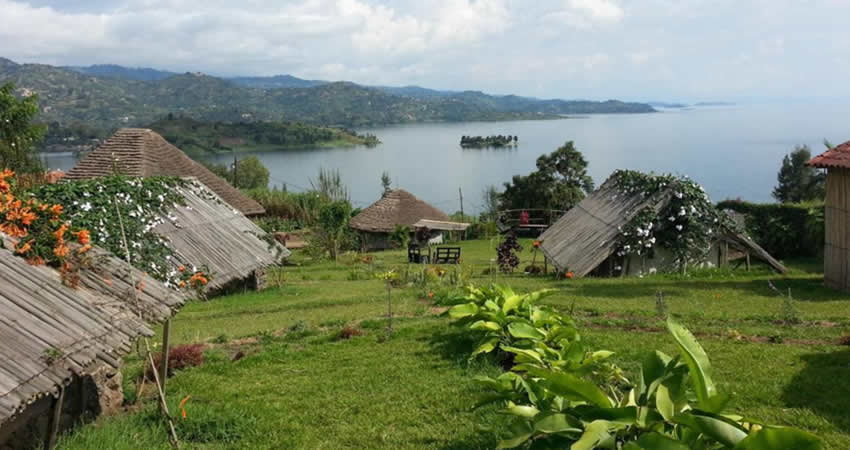 The lodge mission is to provide ecological accommodations and a unique tourism experience while respecting Rwanda's traditions and which will also benefit the local community.
It looks into 3 spects (Lodging, Social, and Tourism)
With lodging, the management is focused on using Lodging in Safari Tents,Use of local construction materials,Use stainless steel straws when we are serving beverages such as smoothies and cocktails,Water recovery system,Composting toilet,Showers with water saving systems,Solar water heater in the main building,Low consumption lighting,Towel and beddings changed only upon request,We don't use single-use toiletries,We dont use individual portion packs of butter, jam and other condiments, sachets of ketchup and mayonnaise, yoghurt pots,  Free water filtered for all of our guests, Use beeswax food wraps
While the social aspect of it, the lodge looks at buying from farmers and breeders, Waste management and composting, Fair trade craft shop, Hand craft sales from locals organizations, Local INZU Lodge staff, and Vegetable garden
The lodge also looks to address tourism in the area and the activities are Gift shop, biking, hiking trails
village walks, canoe trips, boat rides, Social exchange within the community;
MENU
Starters
Isambaza (Small fried fish)
Kachumbari and igitoki chips (Spicy salsa and plantain chips) (VEGAN)
Potage
Vegetable salad with eggs
Green salad (Green apple, avocado and goat cheese) (VEGETARIAN or VEGAN OPTION)
Tabbouleh salad & Pita bread
On The Grill
Beef brochette and igitoki chips
Fish brochette and igitoki chips
Vegetable brochette and igitoki chips (VEGAN)
Vegetable & Tofu brochette and igitoki chips (VEGAN)
Saucisson & Pineapple brochette
Chicken brochette and igitoki chips
Grilled fish and chips
Grilled whole chiken and chips
Méchoui (Whole goat cook on BBQ)
Mains
Vegetable gratin (VEGETARIAN)
Vegetable Quesadillas & Salad (VEGETARIAN)
Roasted vegetable with ginger, tofu & Rice (VEGAN)
Vegetarian Tacos
Rwandan meal (manioc or corn ubugali, tomato sauce and meat cubes, beans, lenga lenga)
Grilles cheese & Salad
Club Sandwich & Salad
Spaghetti Bolognese
Beefsteak bearnaise sauce, potato and  roasted vegetables
INZU Lodge chicken with rice and sombe
INZU Lodge fish with potatoes and vegetables
Desserts
Chocolat or Vanilla Cake
Ice Cream : chocolat, vanilla or strawberry
Fruit salad
Milkshake : chocolat, vanilla or strawberry
Dame blanche or Dame noire : Ice cream with chocolat sauce
2 crepes with ice cream and chocolat sauce
Cocktails
Cuba Libre
Kivu Cocktail
INZU Lodge Cocktail
Frozen Bridge
Irish Mule
Mojitos
Pina Colada
Breakfast
All the breakfasts are served with black tea or green tea or cup of coffee
Granola :Parfait with yogurt, fresh fruit and oat
Rwandan :Bread and Omelet (3 eggs: with or without vegetables)
INZU Lodge :French toast and fresh fruit
Gaufres : Waffles and fresh fruit
Santé :Plate of fresh fruit with cheese and Bread
Kivu :Crêpes (Pancakes) (2) with fresh fruit
Vegan : Bread, Oat porridge, fruits
Americain :Bread, Yogurt, Fruits, Omelet (3 eggs: with or without vegetables).