Hotel Des Mille Collins is located on 2KN 6th Ave, Kigali Rwanda. It is 11km from the airport to the hotel and it takes 21 minutes drive to reach the hotel. The word "Hotel des Mille Collines" is French word which means Hotel of the Thousand Hills in English. It is a large hotel in Kigali and it became famous after 1,268 people took refuge inside the building during the Rwandan genocide in 1994. The story of the hotel and its manager at that time, "Paul Rusesabagina", was later used as the basis of Terry George's film "Hotel Rwanda" in 2004.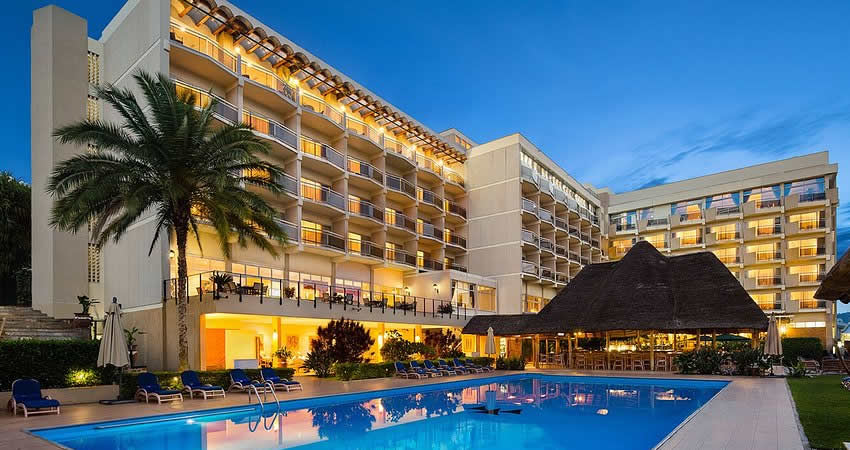 The hotel was started in 1973 as a grand hotel in Rwanda with a great history when it became a shelter of 1,268 people who were saved by the hotel during the Genocide in 1994 against the Tutsi; Hôtel des Mille Collines is surely the most famous hotel in Rwanda's history.
Hotel Des Mille Collins will make you enjoy the stunning views of hills in Kigali while indulging in culinary delights from casual to fine dining, international cuisine to local signature dishes.
The hotel is also known for promoting local artists and Rwandan culture. In so doing, the hotel has displayed local art around the hotel which brings out its beauty. In additions it generates income for the local artists as the art pieces are sold in this very hotel. A culture night is held every Friday and it is dedicated to give guests a taste of the Rwandan culture through live performance of songs and dance. The hotel uses 90% of local produce.
The hotel has different rooms and suites which include classic room, classic room garden view, classic room panoramic view, junior suite and superior suite. All rooms are equipped with Wi-Fi, showers and toilets, satellite TV, table and chair among many others.
The bar and restaurants are also available here and drinks can be served ranging from hard to soft drinks with different dishes served ranging from local, African and international dishes.
Hotel Des Mille Collins also hosts meetings, events and conferences. So you can combine business with pleasure while this hotel. These conference rooms are located on top floor of the building and they benefit from the stunning views and set to fulfill your needs. All in all, this hotel is the appropriate place for your events. It also offers glamorous cocktails, international conferences, board meetings and unforgettable weddings, all venues are designed to accommodate your needs.
SERVICES & AMENITIES
Massage Gazebo
Leave all stress behind and pamper body, mind & soul in the unique poolside Massage Gazebo supported by a breath of fresh air
Concierge Service
From organizing your gorilla trekking adventure to visiting local art markets, our Concierge Service is here to take care of all your requests in order to make your experience with us memorable.
Kigali Night Tour Services
This tour will take you through the central business district of Kigali. The central business district is comprised of private businesses, new Kigali city sky skrappers, commercial banks, hotels and restaurants.