The hotel is located on KG 201 Street, Kigali, Rwanda and you drive for only 13 minutes from Kigali International airport covering 4km. The hotel is currently composed of 82 rooms and all rooms are equipped with TV, Bathroom & Basic bath Amenities, Work Desk & Chair, Balcony with Garden View and Wi-Fi.
Every room has a private patio and beautiful views of our expansive gardens. We offer 2 restaurants to choose from, a popular local dance club, a children's playground and business center with internet connection and printing. Enjoy the serenity and privacy of your quarters, tucked away in a remote area of the Chez Lando gardens, or step into the social life of our popular dining and dance areas.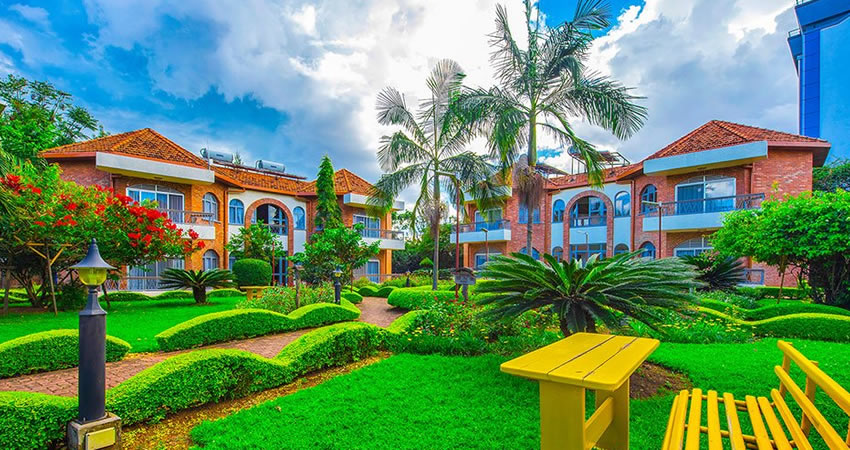 The hotel is located on Remera business suburb in Kigali and the environment is very homely, green, friendly and the staffs are very hospitable, they also offers exquisite menus ranging from Rwandan dishes, African and International dishes.
The vision of the hotel is to provide quality environment and ambiance for the social and economic purposes where people can meet for either business or leisure for their enjoyment. The hotel was built on grassy area along the main road to the only international airport in Rwanda
The hotel was partly destroyed during the genocide in 1994 but the hotel management and founders could not seat back. They struggled and rebuilt and expanded the hotel again. The hotel was built by Lando and Hélène Ndasingwa in the mid-eighties but it being managed today by Lando's sister, Anne-Marie Kantengwa. Hotel Chez Lando's daily and prolonged happy hours in the grill area have become a must for after-work relaxation for anyone living in, or visiting Rwanda
Sixteen years after the Genocide, Hotel Chez Lando opened its new Barbecue, new Restaurant with Terrace and new Meeting Hall where comfort and light meet blossoming flowers. The architecture of the new additions blends with its environment; stylish and modern, it is matching the new face of Rwanda.
TYPES OF ROOMS AT CHEZ LANDO HOTEL
Standard Rooms
This is the most affordable room in this hotel and it has a size 16m2 with a queen sized bed, tv , bathroom and basic bath amenities , work desk and chair, balcony with garden view and these rooms are located on the main building.
Bungalow Rooms
The bungalow rooms have a size of 24m2, 2M king sized bed, TV, Comfortable Work Desk & Chair, Bathroom & Bath Amenities, Mini bar, and Balcony with Garden access & View and it is located on the garden area
Pavilion Rooms
The pavilion room is the best looking room at Chez-lando hotel  with a size 30m2, 2M King Sized Bed, 32inch TV, Daily Coffee & Tea Provision, Comfortable Work Desk & Chair, Bathroom & Bath Amenities, Mini bar, Large Balcony with Garden access & View and it is located in the private garden area
MEETINGS AND EVENTS
Hotel Chez Lando has a variety of meetings & events facilities to hold your event. Hotel Chez Lando meetings & events facilities include:
PA  sound system
LCD  Projector
Wireless connection
Flip Chart stand and paper & markers
Air-conditioner facility
Tables & chairs settings and lay-out
Conference packages including
Water per day
Writing pen & pads
Pause café(mid morning & afternoon)
Full lunch service Buffet
Soft drink(water or soda).