Consider staying at Gisakura Guest House with Gorilla Adventure Tours. Gisakura Guest House lies next to the Gisakura tea estate approximately 2 hours' drive to Nyungwe national park along cyangugu road. The park lies in the Albertine rift valley ecoregion known for its biodiversity and for being one of the most endemic species rich areas in Africa it is characterized by bamboo, grasslands, swamps and bog habitats. Gisakura is an important bird area with about 50 troops of Angolan colobus monkeys, an estate with a vast of tea plantations having various tea ridges with superb adventures for visitors and beautiful sceneries.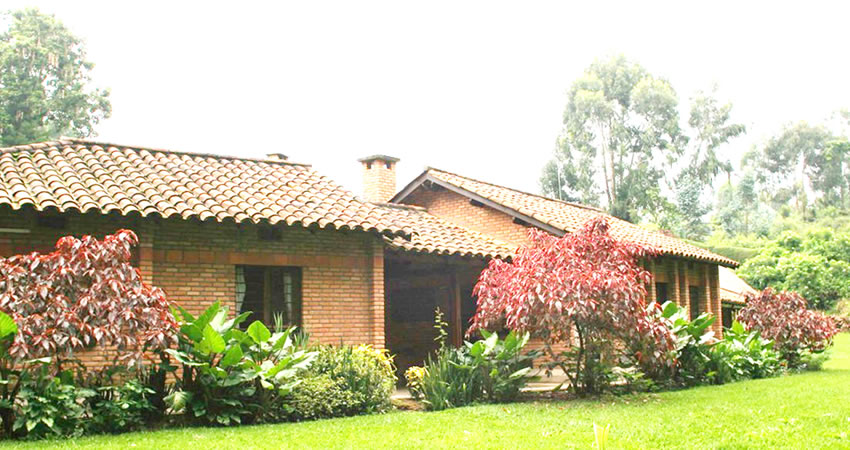 The guest house has a peaceful environment with a wide garden always lit with fire, the rooms are angelically built presenting the African style offered in three categories single, double and triple rooms providing the best facilities and services to clients who come to Nyungwe national park.it employs local stuff who do their best to ensure guest satisfaction.
The main lodge comprises of the reception, bar, and restaurant offering best affordable meals to the guests serving drinks ranging like tea, coffee, juices, and alcoholic drinks, with very helpful staff that are willing to make sure the hit guest satisfaction it is strategically placed near the uwinka vistor center and chimpanzee tracking offices.
Gisakura guest house gives an opportunity to track chimpanzee in Nyungwe forest national park it is home to a number of primate species that could be noted while tracing the chimpanzee for example, the Angolan monkey, golden monkeys, vervet monkey, l'hoest monkey, retailed monkey among others. there are different mammal species that could be spotted like duikers, bushbuck, hyrax and a lot of bird and butterfly species 40 of which are endemic to the nyungwe forest region.
Canopy walks can be organized with special guidance from the guest house, the walk way was constructed on the igishigishigi trail a 200m trail suspended between giant trees offering great views of the upper canopy and Avery good bird watching area, birding to the park, it is most sought of as a birding destination due to its variety in species home to over 310 bird species 27 of which are endemic. The tea estate is also good for bird sightings. Banda cultural performances situated down ill after the canopy walk or via the mountain road, they offer food tasting, basket weaving, traditional local banana bear for adventurous tourists, witness a traditional wedding ceremony and learn about traditional medicine. The uwinka visitor center is a great place to start exploration of the park, excellent forest walks, a number of waterfalls and viewing points worth exploring within the park.
Gisakura guest house is approximately five hours drive from Kigali there are a number of interesting places along the way such as the Nyanza king's palace,the Rwanda national museum, craft shops, huye and gikongoros genocide memorial along the way to nyungwe. The park is accessible all year round but best during the dry months of December –February, June to mid-September, nyungwe is one of the last places of Africa to keep its state, Africa's largest montane forest.