Cormoran Lodge is located on the shores of Lake Kivu which overlooks the Mount Nyiragongo in the Congo side. The Lodge was started in 2010 and it celebrates 11 years of existence offering a special experience enjoying exceptional living environment in a beautiful nature while in Rwanda. Lake Kivu is a beautiful and unique place to visit while in Rwanda. It is of turquoise blue and most prestigious in Africa. It lies on the border between the Democratic Republic of the Congo and Rwanda.
The lodge has 5 cabins with 7 rooms and restaurant made of wood. You will enjoy the breathtaking views of Lake View and its surrounding islands from every angle of your room. While on the VIP cabin you can see the fiery crater of the Nyiragongo volcano in Congo.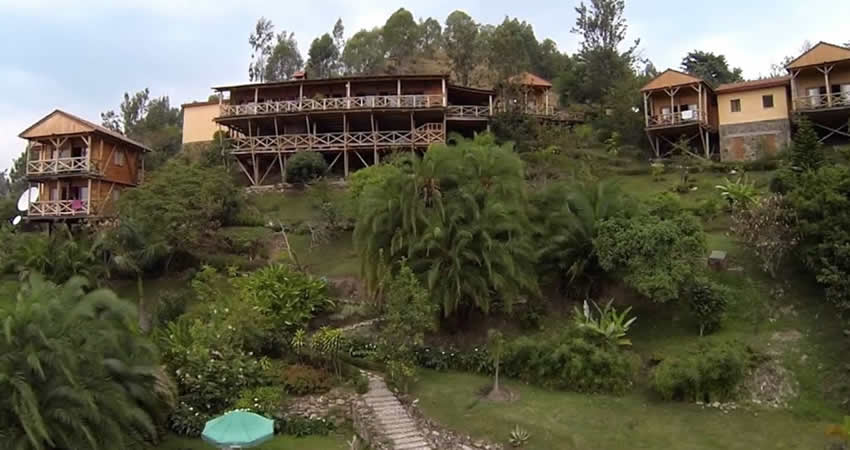 The single room, double rooms and VIP cabins provides breathtaking views of Lake Kivu and they are well equipped with Television, wifi, mini fridge, bath, shower and safety box which are key requirements for the well maintained lodge like Cormoran. All rooms are built of on wood stilt and are eco-responsible.
The rooms are very nice, the result of good handcrafted woodwork. All rooms have mosquito nets and vaporizer, the bathrooms are very comfortable and of good standard. You will enjoy your stay at this facility. Nights at Cormoran lodge will be loved at every minute of your stay. This rustic lodge is well thought out and equipped with everything you need. Towels are good quality, plenty of hot water for the shower. The view from the balcony is spectacular, just sitting and watching the sunset is wonderful experience. The food is good.
The restaurant and bar also offer good views of Lake Kivu with the sunset over Lake Kivu. So you will enjoy the many dishes cooked by the chefs in this restaurant. Eat, drink or relax in the lounge or on panoramic terrace.
There are also different activities and sports which can be done while at the lodge and this include hikes, massages, discoveries, a boat tour of Lake Kivu. They also have a playroom with billiard, darts, and cards games.
The lodge is 3 hours and 30 minutes drive from Kigali, the capital city of Rwanda and it can also be connected with your visit to Nyungwe Forest National Park for Chimpanzee and canopy walk and Volcanoes National Park for Gorilla and Golden monkey tracking.