Your 9 Days Exploring the best of Tanzania tour offers the opportunity for unforgettable early morning and late afternoon game drives through Tarangire, Ngorongoro Crater and the Serengeti. Enquire Now Guided through the eyes of local experts, you will be introduced to a world of wonders, from the culture, to the wildlife and beyond! Admire the picturesque landscapes, track the herds of wildlife in their natural element and observe their habits and routines.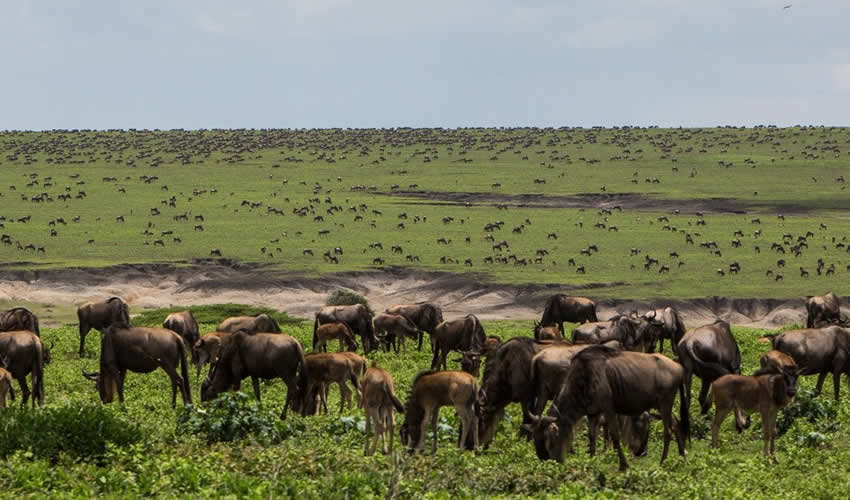 Detailed Itinerary.
Day 1: Arrival – Arusha.
Upon arrival at the JRO Kilimanjaro International Airport, you will proceed through Customs and Immigration. Please obtain your visa if you haven't already done so (E-Visa is recommended). In the arrivals hall, you will be greeted by a local representative, who will transfer you directly to your hotel in Arusha. This drive will take around one hour, so you can sit back, relax and enjoy a comfortable start to your adventure in Africa. Later this evening, you will be met by your expert guide for an exciting pre-safari briefing. They will be able to answer any of your questions, clarify the details of your itinerary and give you an idea of what to expect on this incredible journey ahead.
Arusha is the gateway to Tanzania's northern circuit, serving as a base for Kilimanjaro treks and wildlife safaris into Tarangire, Lake Manyara and Ngorongoro Crater. Transport hub aside, Arusha even offers its own opportunities for exploration, including day trips to Arusha National Park, canoeing tours on Momella Lake and Meru coffee plantation visits. For those looking to just rest and recover from jet lag, Arusha also features the perfect stop to relax and recharge, before continuing your African adventure.
Day 2: Arusha – Tarangire.
This morning, you will be met by your private guide to embark on your safari expedition! From Arusha, you will be taken on a 3 hour drive to the legendary Tarangire National Park. Your first game drive begins upon entering the park. The sincere thrill of your initial wildlife encounter, will ignite an excitement that you will crave no matter how many safaris you have experienced! Continue game driving the rest of the way to your camp, where you will have time to rest before your next safari activity this afternoon. (This service is on a private basis.)
Tarangire is one of the most diverse National Parks in Tanzania. Covering a promising area of 1,360 sq km, Tarangire is situated in the northwestern corner of Tanzania's Masai Steppe, east of The Great Rift Valley. This region boasts large herds of elephant and buffalo, in addition to an impressive concentration of big cats. Featuring over 500 different species, Tarangire also offers the best bird diversity in East Africa. The rugged landscape offers a unique safari backdrop, that blends seamlessly between rolling grasslands, messy swamps and forests of baobab trees.
Day 3: Tarangire.
Known as the sunrise camp, Little Chem Chem is situated on the edge of an acacia forest in a private concession of 16,000 hectares that are shared only with Chem Chem Lodge. Flanked by the Babati mountain range to the South West and the distant hills of Tarangire to the North East, the camp overlooks the freshwater lake, Lake Burunge which attracts all manner of wildlife and birdlife. Lions roam the camp and call each other at night; stately elephants march down to Lake Burunge to get a sprinkling of fresh water; cheetahs hunt on the plains facing the lake; leopards, eland and lesser kudu can be seen in the more dense woods in the inner part of the concession. And wherever there is water, the bird life is abundant and colourful. Little Chem Chem's intimate, elegant but authentic atmosphere, is the ultimate setting from which to explore Africa on foot.
Alternatively, you can explore the Jurassic Park-style environment of Tarangire National Park in one of Chem Chem Wildlife Concessions private, open 4x4s. Full- and half-day excursions are offered and include either a picnic breakfast or lunch at a private picnic site, nestled in the breathtakingly beautiful environment of the park. Tarangire is home to the highest density of elephants and some of the largest baobab trees in East Africa.
Day 4: Tarangire – Lake Manyara – Crater Highlands.
This morning, you will take a break from your wildlife tracking and safari tours, in order to enjoy a special cultural experience. There is so much more to Tanzania than just the wildlife, and a journey deep into the Maasai Heartlands invites you to experience the lesser-known wonders.
Your guide will take you to a local village here, called Esilalei. This rural village is scenically located in the wildlife corridor between Tarangire and Lake Manyara. As you enter their community, you will be greeted by the village elders, children and Morani Warriors. They will show you around their village and offer a glimpse into their very rural world. At the end of your tour, you will say goodbye to your new friends and continue towards the Crater Highlands, where your next lodge awaits.
Ngorongoro Crater is one of Tanzania's most amazing sights: a collapsed volcano which forms an incredible natural amphitheater, 25 km (16 mi) across and teeming with all of the African big game. Many of Tanzania's last remaining black rhino can be seen grazing on the open grassland of the crater floor surrounded by some of the 20,000 large animals that occupy the crater, including lion, cheetah, eland, zebra and gazelle. Flamingo, among other bird species can often be seen feeding at Makat soda lake. This is an area of spectacular beauty and superb game viewing, a truly unique safari destination.
Day 5: Crater Highlands – Ngorongoro Crater.
Early this morning, you will embark on an epic descent into the Ngorongoro Crater. Featuring dramatic open landscapes and impressive game viewing, it is no surprise that this attraction is often described as the eighth wonder of the world. Ngorongoro is a collapsed volcano – a fascinating natural amphitheater that stretches 25 kilometers across. This destination is teeming with Africa's most alluring big game.
Day 6: Ngorongoro Crater – Eastern Serengeti.
Today, you leave the Ngorongoro region and head to the Central Serengeti. The Serengeti National Park is probably the best place on the planet to spot large game. Exploring this area and admiring the wildlife in their natural habitat will never get old. You may also visit the Oldupai Gorge and Museum during your stay here. In the evening you will continue to your beautiful tented camp for stories and dinner.
Days 7 – 8: Eastern Serengeti.
The Serengeti region is probably the best place on the planet to spot large game. Your days here will be spent on different game drives searching for prides of lions, cheetah, leopard and much more. In the evening you'll return to your beautiful tented camp for stories and dinner.
Day 9: Eastern Serengeti – Arusha Departure.
Your journey will come to an end today. However, you will be leaving with unforgettable memories and the experience of a lifetime! After your final morning game drive you'll depart for the airstrip where you'll board your flight back to Arusha.
Depending on your international departure flight time we can arrange for a day use room in Arusha or alternatively a direct transfer to Kilimanjaro International Airport.
End of the 9 Days Exploring the best of Tanzania.
The 9 Days Exploring the best of Tanzania includes;
Full support before, during & after your trip.
Meals as mentioned.
Accommodation as mentioned.
Tours/activities as mentioned.
Transport as mentioned.
However, the 9 Days Exploring the best of Tanzania excludes;
International & domestic flights.
Travel insurance (highly recommended).
Entrance visas when applicable.
Other services not mentioned.
Tips and gratuities to guides, drivers.
Taxes and fees.