This is your memorable 8 Days Luxury Rwanda Primate Tracking Safari.  Fly to Volcanoes for the rare Mountain Gorillas and Nyungwe for the Chimpanzee trekking. Enquire Now The helicopter flight transfers are mentioned in below description.  The Kigali city tour, canopy walk, waterfall hike and Gisakura tea plantation tour are all confined in this safari trip.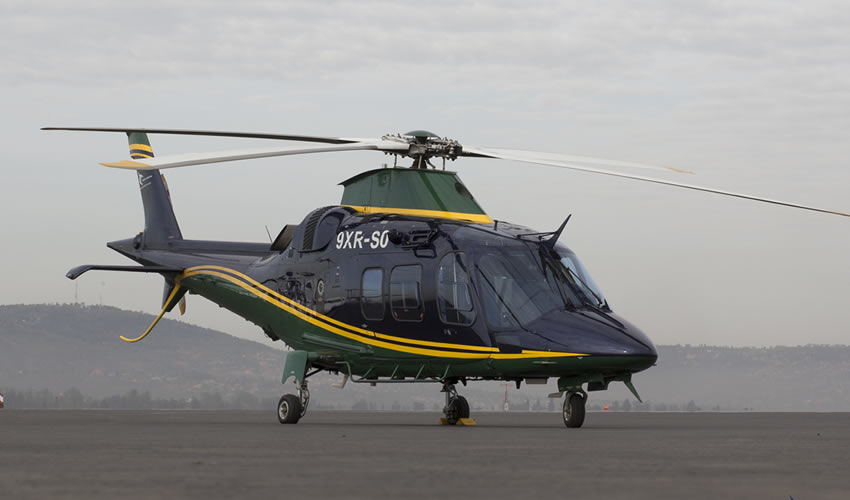 Detailed Itinerary.
Day 1: Arrival at Kigali Airport and transfer to the hotel
Upon your arrival at Kigali Airport, you will be received by our office representative who will brief you about your tour and later transferred to your booked hotel in Kigali. Dinner and Overnight at Kigali Serena Hotel Meal Plan: Dinner.
Day 2: Kigali City tour – Helicopter transfer to Volcanoes National Park (20 minutes' fly)
Wake up and have the morning breakfast, embark on your city tour with a visit to the Genocide Memorial Museum which was started in 2004 and it is the resting place for over 25,000 Rwandese, continue with a visit to Inema Arts and Kimironko Local Market. Later you will be transferred to Kigali International Airport for your helicopter transfer to Musanze Airstrip. The helicopter transfer will offer you with the Aerial View of Rwanda known as a country of a thousand hills. On your arrival at the airstrip, you will be transferred by our driver guide to Singita Kwitonda Lodge for dinner and Overnight, the lodge staff will welcome you and assist you to check in. Meal Plan: Breakfast, Lunch and Dinner.
Day 3: Gorilla trekking at Volcanoes National Park
After an early morning breakfast in the lodge, you will be transferred to the park headquarters for your Gorilla trek briefing. Exactly at 8:00am, you will be escorted by the park ranger guides into the forest as you warm up for your Gorilla trekking activity of the day. Volcanoes National Park has rich ecosystem ranging from evergreen, bamboo forest, open grassland, swamp and heath. Above all it protects the steep slopes of this mountain ranges which are favorable for the stay of the rare Mountain Gorillas. Upon meeting the friendly rare Mountain Gorillas, you are assigned to 1-hour interaction with them. watch them doing their daily life activity, feeding, playing, resting and training their young ones. Return to the lodge for lunch and relaxation. Overnight at Singita Kwitonda Lodge Meal Plan: Breakfast, Lunch and Dinner.
Day 4: Golden Monkey trekking and Volcanoes Cultural Experience
Have morning breakfast, then proceed to the park headquarters for briefing before embarking on your Golden Monkey trekking starting at 8:00am. It is one of the most beautiful primate species in the world with golden-orange spots on their fur coats and they stay in troops of 60-80 individuals. The Golden Monkey also known as Cercopithecus Mitis Kandti is a local subspecies of the Sykes Monkey ("Blue Monkey") and they are found in high-altitude forests like Volcanoes National Park. You will find them playing, swinging on the bamboo branches, and also on the forest floor. They are so inquisitive but you are allowed to view them for an hour. After this everlasting experience, return to the lodge for lunch and later embark on the Village Cultural walk to see their daily lifestyle and activities which include cultivating, basket weaving, local bee keeping, curving, butter churning with dancing. Overnight at Singita Kwitonda Lodge Meal Plan: Breakfast, Lunch and Dinner.
Day 5: Musanze, Volcanoes National Park – Flight to Nyungwe Forest National Park (30 minutes Fly)
Have morning breakfast and morning relaxation at the lodge. Later, you will be transferred to Musanze airstrip for the helicopter scenic view transfer to Nyungwe Forest National Park. Upon your arrival, Land at the One & Only Nyungwe House helipad where you will be met by the lodge staff and guided to the reception. After assisted check-in, you will be served a delicious hot lunch. The afternoon will be spent on leisure and relaxation or have complementary optional activities at the lodge like spear throwing, cycling, natures boot camp, nature walks among other activities. Overnight at One & Only Nyungwe House Meal Plan: Breakfast, Lunch and Dinner.
Day 6: Nyungwe Chimpanzee trekking and Canopy Walk
After early morning breakfast, you will be transferred to the park headquarters for briefing. When it clocks 8:00am, you will be escorted by the ranger guides for the forest walk in search for the Chimpanzees. Enjoy the closest creatures to human being. The forest walk is so amazing as you will watch the chimps leave their nests, play, feed and train the young ones. You will see the other 12 species of primates which inhabit this montane Forest and among which include Owl-faced monkey/ Hamlyn's monkey, Grey-cheeked mangabey,Red-tailed monkey,L'Hoest's monkey, Vervet monkey, Olive baboon, Dent's Mona Monkey, Blue Monkey, Angolan Colobus Monkeys etc. The afternoon will spent on a canopy walk along the 70 meter suspended metallic bridge above the tree tops. The 160m long and 70m high suspension bridge is accessible as part of a guided tour along the Igishigishigi trail, or to those hiking the Imbaraga or Umuyove trails. Overnight at One & Only Nyungwe House Meal Plan: Breakfast, Lunch and Dinner.
Day 7: Water Fall Hike and Gisakura Tea Plantation and factory tour
Have morning breakfast ready for the water fall hike. The Water fall trail starts immediately from the lodge. Walk into the forest with ranger guides under the riverine fern shaped trees through the several rivers to the base of the sharp, pretty and beautiful small water fall. This memorable experience costs 4 hours to and from the Forest. Return for lunch and later embark on yet another experiential tea plantation and factory tour. You will learn how tea is grown, processed and taken as tea. This will amaze you. Overnight at One & Only Nyungwe House Meal Plan: Breakfast, Lunch and Dinner.
Day 8: Nyungwe Forest National Park – Helicopter flight to Kigali Airport
After a delicious breakfast, you will relax for some time and after you will check out of your hotel room and later transferred to the resort helipad to catch up with your scenic helicopter flight back to Kigali leaving at 1100hours. The driver guide will be waiting for you. Transfer for lunch in your booked restaurant in the city. After your lunch, go for shopping and alter transferred back to airport to catch up with your international flight back home. Meal Plan: Breakfast and Lunch. END OF SERVICE.
The above safari package includes: –
Airport transfers
Transportation by a 4wd luxury land cruiser
Accommodation and meals as per the itinerary
Gorilla permit per person to be secured and paid for in advance
Park fees
Nyungwe  Chimpanzee  Permits
Water fallWalk
Canopy walk
Cultural experience
Golden monkey trekking
Tea plantation tour
Helicopter flight as mentioned in the itinerary
Services of English speaking Driver/guide.
Enroute lunches
Game drives

However, the package excludes:  expenses of personal nature like: flights,Visa, Golden Monkey,Pygmy village walk, drinks, laundry, tips to local guides, telephone, porter fee while trekking, personal insurance, and tobacco, Local flights, International flight.