This 8 Days Kilimanjaro Hike and Zanzibar Beach Tour will reward you with the opportunity of hiking the highest mountain in Africa and enjoy after the beautiful beach on the Indian ocean for Kilimanjaro. We will hike Marangu Route which is the only route that goes up and down on the same trail. This makes it the most crowded trail. We recommend climbing this route if you do not want to sleep in a tent on an inflatable pad.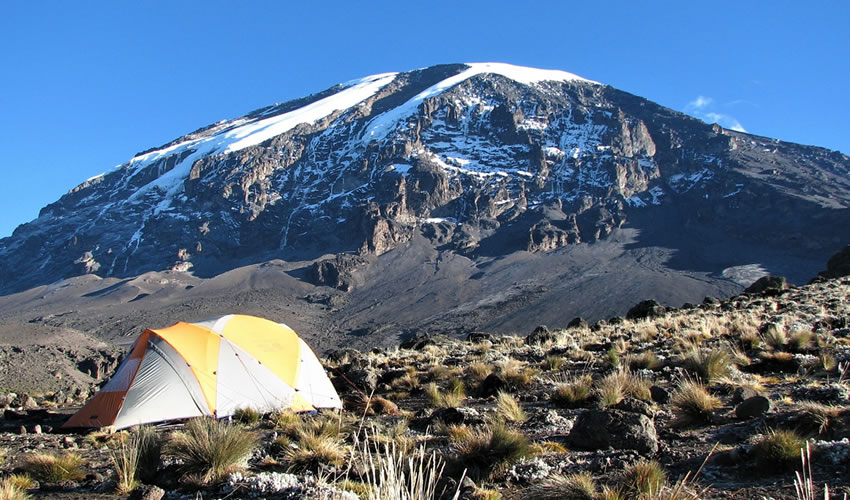 Day 1: MARANGU GATE TO MANDARA HUT
Take a short drive from Moshi town to the Kilimanjaro Park Gate (1,830 m.) lies at the edge of Marangu, which is an attractive village with many small coffee and banana plantations. After completing the entrance formalities, we climb up through attractive and unspoiled forest to reach the clearing containing Mandara Hut (2,700 m.). The volcanic remains of Maundi Crater are nearby, and make a good afternoon excursion. An alternative is to rest and enjoy the beautiful forest. There is a rich birdlife at the huts and monkeys are often seen as well.
Day 2: MANDARA HUT TO HOROMBO HUT
The first part of the walk is a steep ascent through forest, but the path soon opens out into grassy moorland and, in clear weather, there are good views of Kibo and Mawenzi peaks. We climb steadily through the moorland zone, containing giant heather and occasional stands of groundsel, to eventually reach Horombo Hut (3,720 m.). Sunrises and sunsets here are often very stunning, the site is close to the glaciated dome of Kibo, and there is a real sense of being above the clouds.
Day 3: HOROMBO HUT TO KIBO HUT
We climb very gradually towards the lunar desert of the Saddle between Mawenzi and Kibo. The terrain changes to screed and there is a palpable sense of high altitude wilderness. We usually reach Kibo Hut (4,700 m.) at the bottom of the crater wall by midday and the afternoon is free (to contemplate the summit ascent!!). The remainder of the day is spent resting and eating in preparation for the final climb before a very early night!
Day 4: SUMMIT DAY THEN DOWN TO HOROMBO HUT
We will start our ascent by torchlight at about 1 a.m. so that we can be up at Gillman's Point by sunrise. The initial climb is steep over loose volcanic screen, but there are some well-graded zigzag and a slow but steady pace will have us up to Gillman's (5,685 m.) in about five or six hours. We will rest there and spend some time taking in the sunrise. Those who are still feeling strong can make the three hour round trip from here along the crater rim to Uhuru Peak (5,896 m.) passing close to the spectacular glaciers that still occupy most of the summit area. The descent is surprisingly fast and we return to Horombo Hut for the night.
Day 5: HOROMBO HUT – MOSHI
After breakfast, we will start with a pleasant moorland walk to Mandara and then a lovely forest walk to the National Park gates to Moshi town. Later after lunch heads to the airport fr transfer at Zanzibar beach. On arrival head to hotel for your diner and overnight.
Day 6: DAY EXCURSION IN ZANZIBAR, STONE TOWN TOUR & SPICE TOUR
Have morning breakfast, you will head for a day excursion to explore the vibrant hot spot of Zanzibar with a tour of the Stone Town, and learn about its rich history and cultural heritage and Spice tour, which is the second income earner of Zanzibar, with a drive through a profusion of greenery in the countryside seeing, smelling and tasting a variety of spices and mouth-watering tropical seasonal fruits such as jack fruit, pineapple, banana, green coconut juice, dourian, love apple, litche, soursop ( depending on the season ) etc…. Later return to the lodge for dinner and overnight.
Day 7: SEA EXCURSION
Have morning breakfast, you will head off for a sea excursion, for snorkeling and Dhow evening cruise to explore Zanzibar sea. You will return in the late evening for your diner and overnight.
Day 8: TRANSFER TO ZANZIBAR AIRPORT AND FLY BACK HOME
Have morning breakfast, you will have a free relaxed morning day at the hotel, and depending on your flight time, you shall be transfer to Zanzibar airport, to catch up with your flight to connect with your evening flight to your home country.
End of the 8 Days Kilimanjaro Hike and Zanzibar Beach Tour.
The 8 Days Kilimanjaro Hike and Zanzibar Beach Tour cost includes;
Kilimanjaro entrance fees
Camp and rescue fees
Professional Mountain guides
Porters
A Cook
Portage of 2 bags per person.
Three meals a day and all camping equipment.
Accommodation in Zanzibar, accommodation in tents on the mountain.
However, the 8 Days Kilimanjaro Hike and Zanzibar Beach Tour cost excludes;
International flights and local flights
Communication charges
Personal climbing gear
Meals or transfers other than those included on the cost of the climb
Optional activities
Beverages
Laundry
Personal gear