Kenya is richly blessed with abundant wildlife and tourist attractions that you can get to explore when you visit this amazing country with Gorilla Adventure Tours on this 7 Days Exploring Kenya Wildlife Tour. This 7 Days Exploring Kenya Wildlife Tour takes you to visit great Masai Mara game reserve and Lake Nakuru, Amboseli and Tsavo West national parks. Contact us to book this wonderful Kenya tour.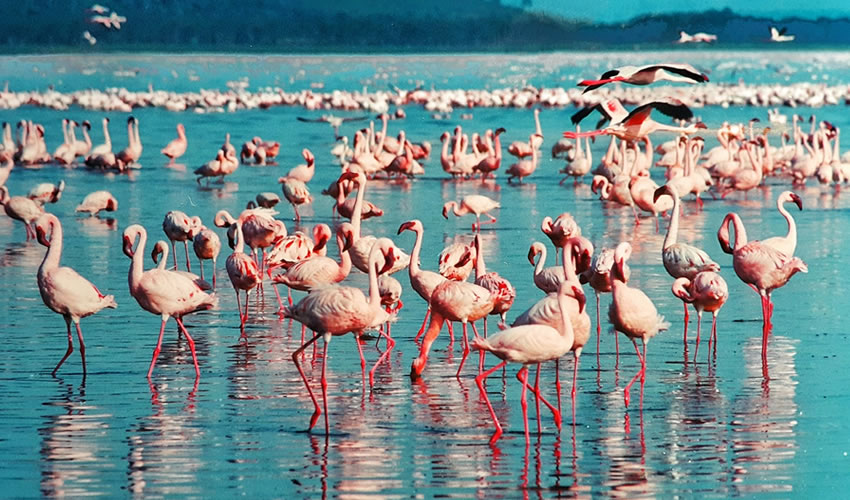 Day 1: Transfer to Masai Mara
You will be picked up from your hotel in Nairobi by a Gorilla Adventure Tours safari guide who will drive you to Maasai Mara through The Great African Rift Valley and Narok Town. You will arrive in time for lunch. Check in at Mara Sopa lodge and have lunch. Afternoon game drive through the park in search of the Lion, Cheetah, Elephant, Buffalo and other members of the Big five plus other animals. Dinner and overnight at Mara Sopa lodge.
Accommodation:Masai Mara Sopa Lodge
Day 2: Full day in Masai Mara game reserve
Spend this day on intensive game viewing. Choose to spend one full day in the park with packed lunch in search of its popular residents like the well-known predators and their opponents like the Zebra, Wildebeest, Giraffe, Hippo and the dangerous Crocodiles with a visit to Mara River.
Accommodation: Masai Mara Sopa Lodge
Day 3: Transfer to Lake Nakuru
After early breakfast, we take final game rive in Masai Mara. Depart for Lake Nakuru. The drive passes via Lake Naivasha. We arrive Lake Nakuru in time for late lunch. In the afternoon, spend the entire evening in the park. Lake Nakuru is famous for big population of flamingos and the rare white rhino. Dinner and overnight at the lodge.
Accommodation:Lake Nakuru Lodge-Mid-range lodge
Day 4: Transfer to Amboseli National Park
A short morning drive as you exit the park.A long and easy drive to the Amboseli awaits you today.There shall be stops to view the Great Rift Valley and other scenic spots along the safari route.Stop and enjoy lunch at the famous carnivore restaurant in Nairobi.
Short game viewing drive with possible views of the Mount Kilimanjaro peaks at Amboseli.
Accommodation: Kibo safari camp.
Day 5: Full day in Amboseli National Park
Full day spent in the Amboseli National Park with game drives. Mount Kilimanjaro is the highest mountain in Africa and is snow-capped at the peak. The majesty of this tropical mountain makes Amboseli an ideal photographer's haven by offering a spectacular back ground for wildlife and scenic photography. Herds of elephants inhabit this swampy park together with lions, cheetah, buffalo, warthog, rhino and different species of antelopes. The park is also a home of interesting bird species. All meals and overnight at the luxury camp.
Accommodation: Kibo safari camp
Day 6: Transfer to Tsavo West
Early before breakfast, game drives and probably last sights of the Mount Kilimanjaro. After breakfast, continue for one more game viewing. Later proceed to Tsavo west to arrive in the afternoon. Check in to Kilaguni Serena safari lodge for lunch and a short relation before going for the evening game drive, visiting the rhino sanctuary with game viewing to and from the sanctuary. Dinner and overnight in your safari lodge.
Accommodation: Kilaguni Serena safari lodge
Day 7: Transfer to Nairobi
Early morning breakfast will be followed by a visit to Mzima springs, here you will find a huge pool of water emanating from river underground with sources in the Kilimanjaro forming a home to hippo's crocodiles and fish. There is an underground glass observatory tank that will enable you to view all the animal activities from underground, there after depart for Mombasa or Nairobi with lunch en-route. Arrive in Mombasa or Nairobi in the early evening.
End of the 7 Days Exploring Kenya Wildlife Tour.
The 7 Days Exploring Kenya Wildlife Tour includes;
Park fees.
All activities.
All accommodation per itinerary.
A professional English driver/guide.
All transportation.
Airport transfer.
The 7 Days Exploring Kenya Wildlife Tour excludes;
International flights, Additional accommodation before and at the end of the tour, Tips, Personal items, Souvenirs, travel insurance, visa fees, etc. Government imposed increase of taxes and/or park fees.