Gorilla Adventure Tours brings you this 6 Days Exciting Wildlife Safari in Kenya on which you will explore three top destinations in Kenya. You will visit the Maasai Mara which is known for sightings of the Big 5: Lion, Elephant, Leopard, Buffalo and Rhino. It is also popular for the annual migration of zebra and wildebeest which occurs from July to October. Lake Nakuru is home to a huge population of pink flamingos and about 400 species of birds; while Amboseli is known for the large herds of elephants and most especially with its stunning view of Mt. Kilimanjaro. Contact us to book this Kenya tour.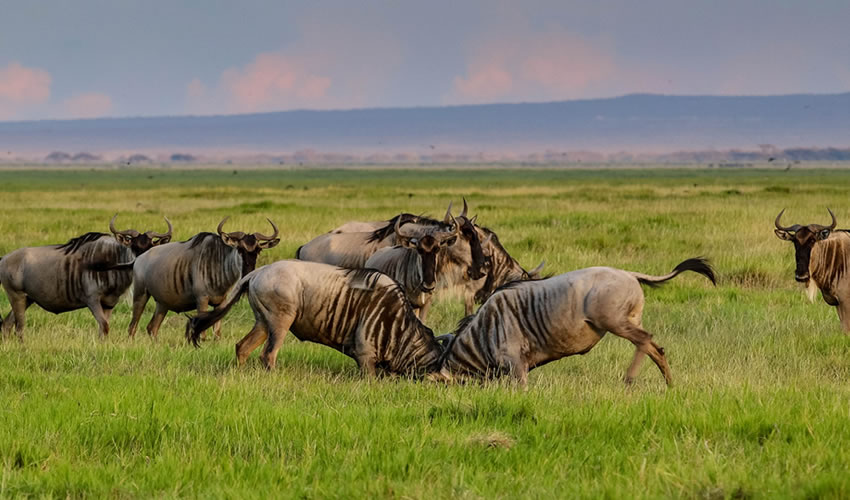 Day 1: Transfer to Masai Mara
Leave Nairobi in the morning at 8.00 am drive to the view point of the Great Rift Valley, descend the escarpment and drive via Narok then to Masai Mara for lunch at the lodge followed by afternoon game drive in Masai Mara famous for its black manned lions and yearly migration of wildebeests.
Accommodation: Masai Mara Sopa lodge-mid range facility
Day 2: Maasai Mara migration tour
The whole day will be spent in game viewing and exploring the park's high concentration of wild animals. On the plains are enormous herds of grazing animals including the elusive Cheetah and leopard hiding amidst acacia boughs? In the afternoon, an optional visit to a Masai village can be arranged, the entrance fee is not included in the package. Here you will be welcomed by the locals singing and dancing, a sacred ritual that has formed their rich tradition. Part of the tour includes a glimpse to their local homes and way of life.
Accommodation:Masai Mara Sopa Lodge
Day 3: Transfer to Lake Nakuru
Pre breakfast game drive, return to lodge for late breakfast and proceed to Lake Nakuru arriving in the late afternoon. There shall be one hour stop in Lake Naivasha for a complimentary boat ride to the lake. Proceed to Lake Nakuru with game drives en-route to your lodge.
Accommodation: Lake Nakuru lodge.
Day 4: Transfer to Amboseli National Park
A short morning drive as you exit the park.A long and easy drive to the Amboseli awaits you today.There shall be stops to view the Great Rift Valley and other scenic spots along the safari route.Stop and enjoy lunch at restaurant along the way.
Short game viewing drive with possible views of the Mount Kilimanjaro peaks at Amboseli.(Weather permitting).
Meal Plan: Breakfast, Lunch and Dinner
Accommodation: Kibo safari camp-Mid-range tented camp.
Day 5: Full day in Amboseli National Park
Early pre-breakfast game viewing drive at the national park.Weather permitting the clouds will shear off, leaving you mesmerized by the majesty of the Kilimanjaro and its gleaming snowcapped peaks.Today shall be spent exploring the Amboseli National park on unlimited game viewing drives.
Accommodation: Kibo Safari Camp-Mid-range tented camp.
Day 6: Transfer to Nairobi
After breakfast leave the semi luxury camp for the last game drive in the park as you leave the Amboseli Park for Nairobi with hot lunch served en route arriving in Nairobi late afternoon with sweet memories. Drop off your hotel or airport.
End of the 6 Days Exciting Wildlife Safari in Kenya.
The 6 Days Exciting Wildlife Safari in Kenya includes;
Park fees.
All activities.
All accommodation per itinerary.
A professional English driver/guide.
All transportation.
Airport transfer.
The 6 Days Exciting Wildlife Safari in Kenya excludes;
International flights, Additional accommodation before and at the end of the tour, Tips, Personal items, Souvenirs, travel insurance, visa fees, etc. Government imposed increase of taxes and/or park fees.