Explore the wonders of the Democratic Republic of Congo on this 5 Days Kahuzi Biega National Park Tour. Kahuzi-Biega National Park is famous for lowland gorilla and chimpanzee spotting. Enquire Now The DRC has got so much to see and do and this amazing wildlife DRC tour will take you to explore much of that and more. Contact us to book at Gorilla Adventure Tours and be ready have a memorable experience in Congo.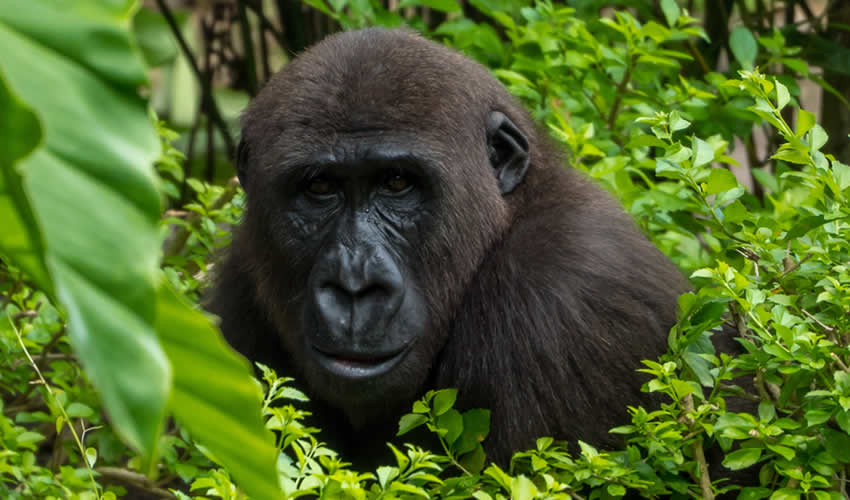 Detailed Itinerary.
Day 1: Arrival Kigali – Transfer to DRC.
Upon your arrival at Kigali International Airport, you will be welcomed by a Gorilla Adventure Tours safari guide who will then take you on a 3 hour drive to the border where you will be granted a DRC Visa on arrival. Our DRC representative will then pick you in Goma or Gisenyi, and transfer you over the afternoon to Bukavu over the Lake Kivu and past all of its islands in the lake to Bukavu, where you will meet up with your local guide. Take a lakeside ride from Bukavu to Tchivanga and enter the park to set up your tent while the staff prepare your dinner and campfire or evening lounge area.
Overnight at The Kahuzi Biega Park Camp ground.
Day 2: Kahuzi Biega National Park.
You will have an early morning breakfast and go on a four hour trek through the rainforest to share what is sure to be a memorable moment with the lowland gorillas in their natural environment in the Kahuzi Biega National Park. This activity will take most of the rest of the day.
Overnight at The Kahuzi Biega Park Camp ground.
Day 3: Kahuzi Biega National Park.
After breakfast head to the beautiful Lwiro Forest with a view overlooking the park – a walk of about three hours awaits you. Accompanied by a guide you will optionally discover more walks and birding tours and animals nearby crossed by a river and really enjoy watching chimps interact and go about social life in their real habitat. Finally head back along the beautiful Lake Kivu shore.
Overnight at The Kahuzi Biega Park Campground.
Day 4: Kahuzi Biega National Park.
This morning depart to Mt Kahuzi one hour from Orchid Lodge and up towards the summit, through the valley jungles and flocks of birds and butterflies. You will climb and take in the surreal scenic views and later walk down the volcano amidst beautiful and highly diversified volcanic flora. Return to the lodge for dinner and overnight stay.
Overnight at The Kahuzi Biega Park Camp ground.
Day 5: Return to Kigali – Departure.
After breakfast spend the morning enjoying the park and then take a boat back north across the lake to Goma and proceed to Kigali International Airport, arriving in time for your departure flight out.
End of the 5 Days Kahuzi Biega National Park Tour.
The 5 Days Kahuzi Biega National Park Tour includes;
Accommodation and meals as per the itinerary.
Chimpanzee tracking.
Park entrance fees.
Volcano Trek permit.
English-speaking guide.
Local guide.
Bottled water.
Not included in this package: Rwandan Visa, Congo Visa, Drinks, Nyiragongo backpack, porter fees, flight fares, gratuities and anything of a personal nature.