Visit Burundi on this 5 Days Adventure Safari in Burundi and be sure to have a memorable experience in this small country. Enquire Now You will explore Bujumbura City, visit Karera Waterfalls and visit the famous Gishora Drum Sanctuary on this Burundi safari tour. Contact Gorilla Adventure Tours to book this tour.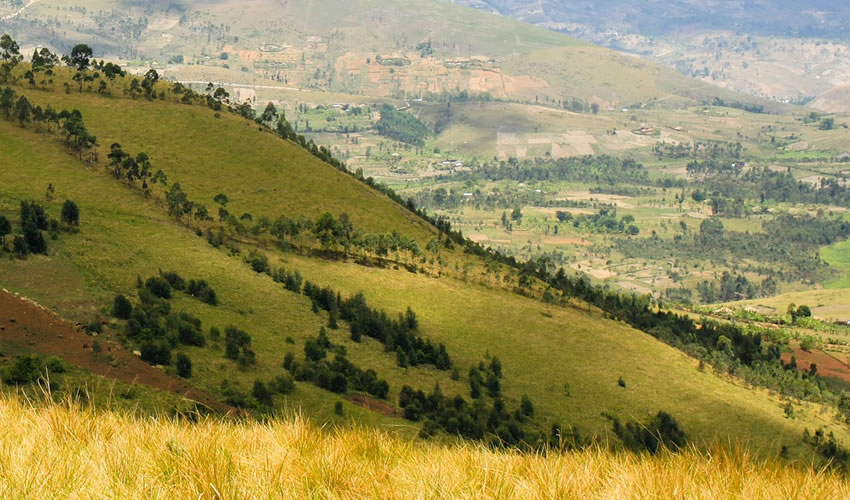 DAY 1: ARRIVAL AND WELCOME
Pick up from the airport and check in at Hotel and Relax at Lake Tanganyika.
DAY 2: BUJUMBURA CITY TOUR
Enjoy a day tour in Bujumbura, Cultural Tour of Bujumbura Morning, we visit Rusizi national park where a possible boat tour in Rusizi river can let you explore closer the hippo, numerous birds and the joining point between Rusizi River and Lake Tanganyika; Belvedere Climb offering a nice view of Bujumbura city, Independence hero monument. Later, we visit Explorers' Memorial, a huge rock in the Suburbs of Bujumbura commemorating the meeting between explorers Stanley and Livingstone.
DAY 3: SOURCE OF NILE-KARERA WATERFALLS
After breakfast, we take the direction to the Source of Nile, and then Karera waterfalls. On our route, magnificent tea plantations and landscapes will make you carry your camera ready for pictures.
After Karera waterfalls, drive to Gitega, the second town and colonial capital of Burundi. Visit of Gitega National Museum with its collection of artefacts, Gitega city administrative offices, Catholic location of Mushasha and its different schools.
DAY 4: GISHORA DRUM SANCTUARY
After breakfast visit of the drum sanctuary of Gishora. Gishora is one of the famous drum sites of Burundi. Gishora is perched on the top of a hill at 7 km from the urban centre of Gitega.
The site of Gishora also houses two ritual drums that were never beaten : Ruciteme (the one for whom we clear the forest) and Murimirwa (the one for whom we cultivate).
The two names are intimately linked to the farming vocation and refer clearly to the fertility, characteristic of the king. We have also ordinary drums which the Batimbo could beat on special occasions of the country. Visit the drum sanctuary of Gishora to relive the cultural tradition of Burundi which is becoming scarcer. The site recreates an architectural complex of Royal palace, rarely found elsewhere in the country. Get there a lot of information will be provided by Mr Antime who has travelled a lot of countries across the world exhibiting the image of Burundi with his drum.
Here drummers' performance can be watched. Lunch at Gitega city. After lunch, visit of the city. Gitega is the second largest town of the country, with its typical colonial architecture. It hosts the National Museum with its ethnographic and archaeological collections. After drive towards Bujumbura for overnight at your preferred hotel.
DAY 5: AIRPORT TRANSFER
After breakfast your driver/guide will transfer you to the airport for your departure flight back home.
End of the 5 Days Adventure Safari in Burundi.
The 5 Days Adventure Safari in Burundi package includes;
Transportation in a 4×4 Safari vehicle.
Services of an English-speaking tour guide.
All accommodation and meals as per the itinerary.
Park Entrance Fees.
Ranger Guide Fees.
Driver/Guide subsistence allowance.
Guided Nature Walk.
Bird watching.
Visit to Kibira National Park.
However, the 5 Days Adventure Safari in Burundi package excludes expenses of personal nature such as drinks, laundry, tips, telephone, cigars e.t.c.