This 11 Days Beach Experience Safari in Kenya takes you to Masai Mara, Lake Nakuru, Amboseli, and Tsavo East, some of the top national parks and game reserves in Kenya. The wildlife safari part will take 8 days, after which you will go to the Kenyan coast for an unwinding beach holiday extension. Contact us to book this safari in Kenya.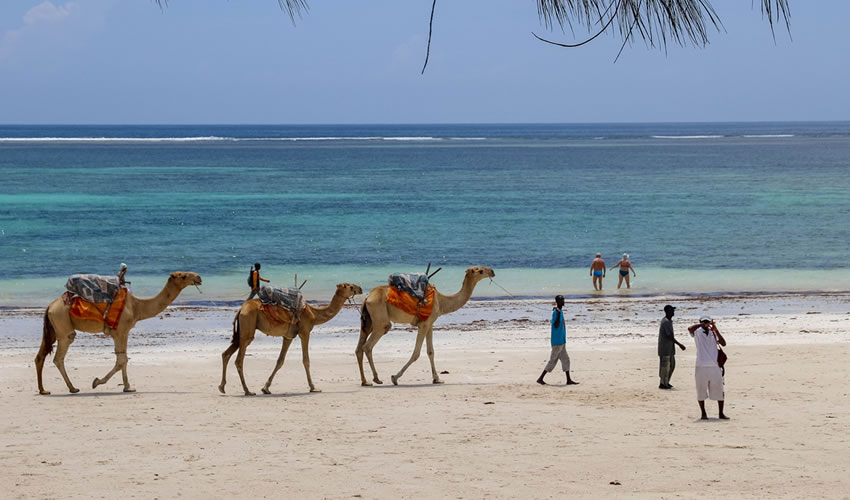 Day 1: Arrival and transfer to Masai Mara
You will be picked from your hotel in Nairobi early in the morning and briefed about the safari after which you will depart for Maasai Mara, by road, making a brief stop at the Rift Valley view point along the way.
Check in at the safari lodge upon arrival, followed by lunch and early afternoon relaxation, before going for your first game drive inside the national reserve.
Accommodation: Zebra Plains Mara Camp
Day 2: Explore Masai Mara Plains
You will wake up very early, take a cup of coffee, then set out on a morning game drive inside Maasai Mara. The morning game drive offers you a good chance of catching some great wildlife action because the animals are usually more active when the temperatures are cooler. Return to the lodge for breakfast, then spend the rest of the morning relaxing and enjoying the facilities at the safari lodge.
After lunch, you will have adequate time for a siesta, followed later by an evening game drive in the National reserve.
Alternatively, instead of a morning and afternoon game drive, you can opt for a full day game drive. This is especially recommended during the wildebeest migration season. In this case, you will take an early breakfast, then leave the lodge carrying parked lunch in picnic boxes. You will spend full day exploring the vast plains inhabited by a great variety of big game and plains animals.
Accommodation: Zebra Plains Mara Camp-Mid-range tented camp
Day 3: Transfer to Lake Nakuru National Park
After an early breakfast at the lodge, you will check out and depart for Lake Nakuru National Park. The drive to Lake Nakuru is quite long, taking about 6 hours. You will arrive at the lodge in time for lunch.
Early afternoon at leisure, then proceed for a safari drive inside the National Park from around 4PM till sunset.
Accommodation: Lake Nakuru game Lodge-Mid-range tented camp
Day 4: Transfer to Amboseli National Park
Take an early breakfast at the lodge, then start the drive to Amboseli National Park. This will be another long drive, taking about 6 hours. You will carry parked lunch from the lodge in Lake Nakuru. Alternatively, you can also stop for lunch in a restaurant in Nairobi.
Arrival in Amboseli in time for an afternoon game drive, then later proceed to the lodge just before sunset.
Accommodation: Kibo safari camp-Mid-range camp
Day 5: Discover Amboseli National Park
With a full day to spend in Amboseli, you will have an early morning and a late afternoon game drive, giving you an opportunity for great wildlife photography against the backdrop of Mt Kilimanjaro. On clear days, the views are breath taking.
Accommodation: Kibo safari camp -Mid-range camp
Day 6: Transfer to Tsavo West National Park
Enjoy one last early morning safari drive in Amboseli, then take breakfast before departing for Tsavo West.
At Tsavo West, you will be staying at the iconic Voyager Ziwani Lodge. Lunch will be served at the lodge, upon your arrival, followed by early afternoon relaxation, then an evening game drive.
Accommodation: Ziwani Lodge
Day 7: Transfer to Tsavo East National Park
Game viewing drives with a visit to the Mzima springs.Proceed to Tsavo East National park with game spotting and scenery viewing en route.
This is a home for different families of antelopes and gazelles and also herds of elephants and buffaloes. By midday, you have your lunch, later after relaxing in the afternoon you enjoy more game drives till evening. Later in the evening you drive back to the lodge.
Accommodation: Ashnil Aruba Lodge
Day 8: Transfer to Mombasa
Your last day of safari. Early morning game viewing drives at the Tsavo East national park. We depart the park for the drive down to Mombasa. From Mombasa town, we proceed to the south coast beach resorts. Our next place of stay for three nights is Baobab beach resort and spa.
Accommodation: Baobab Beach Resort-Mid-range resort
Day 9-10: Beach at leisure
You have two full days to spend at your own pleasure. You can decide to simply relax at the beach or enjoy a multitude of water sports and other activities. If you would like, we can also arrange for guided tours to nearby attractions in Mombasa and surrounding areas at an extra cost.
Accommodation: Baobab Beach Resort-Mid-range resort,all-inclusive arrangements.
Day 11: Transfer to Nairobi
After breakfast at the hotel, our representative will pick you up and transfer you to the Moi International Airport in Mombasa. We select flights out of Mombasa that connects your outbound flights in good time. This scheduled flight must arrives in Nairobi to connect with your international flight back home.
End of the 11 Days Beach Experience Safari in Kenya.
The 11 Days Beach Experience Safari in Kenya includes;
Park fees.
All activities.
All accommodation per itinerary.
A professional English driver/guide.
All transportation.
Airport transfer.
The 11 Days Beach Experience Safari in Kenya excludes;
International flights, Additional accommodation before and at the end of the tour, Tips, Personal items, Souvenirs, travel insurance, visa fees, etc.